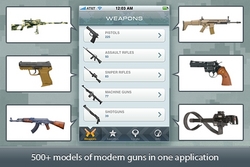 Over 500 models of guns in your pocket!
San Rafael, CA (PRWEB) May 1, 2010
DAVA Consulting, LLC released the first ever encyclopedia of modern weapons for iPhone. You can search, compare, analyze or just find something new about famous models of weapons.
Brand new and highly informative application presents over 500 models of guns with technical and tactical characteristics and an extensive library of photos. Handguns, assault rifles, sniper rifles, and lots of other unique samples from all over the world can be found in Modern Weapons encyclopedia.
Having plenty of other options like search of shooting ranges and gun stores - it is even more than encyclopedia. Everything a military personnel or a hobbyist needs is right in one application!
Modern Weapons features:

More than 500 gun models from more than 40 countries
5 weapon categories: handguns, assault rifles, sniper rifles, machine guns, shotguns
Information quick search and sorting
Favorites section
Search of nearby shooting ranges and gun stores
Video of guns
Modern Weapons is available in AppStore: http://itunes.apple.com/us/app/modern-weapons-small-arms/id368357933?mt=8
About DAVA Consulting
DAVA Consulting is an Outsourcing Company with Software Development center in Eastern Europe. Based on many years' experience in mobile industry, the company provides services for custom software development which covers applications and games designs and implementations for different platforms. DAVA Consulting offerings are based on the concept of full life cycle development. The company's customers get the entire spectrum of services from analysis to implementation and support irrespective of their solutions technical level.
# # #