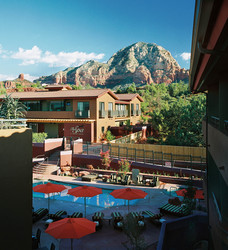 Sedona (Vocus) May 3, 2010
Northern Arizona's wine country, centered in the Verde Valley, is rapidly becoming the go-to destination for wine aficionados everywhere. It is the new place to know and go. As the local wines receive more and more favorable review and, with the release of Maynard James Keenan's movie Blood into Wine documenting the local wine scene, interest in exploring the vineyards and wineries has literally exploded. Think of the movie "Sideways" coming to Arizona. Local communities have now banded together to produce the Verde Valley Wine Trail, which highlights the many stops throughout this robust new 'terroir'.
The sophisticated Sedona Rouge Hotel & Spa has become the headquarters for divining the secrets along the Trail. With its Andalusian accents, lively bar scene, casual bistro cuisine, renowned spa, and sumptuous guest rooms, the Rouge is the perfect contrast to the Trail's sometimes-rural adventures.
A good fifteen degrees cooler than Phoenix/Scottsdale during the day, and twenty-five degrees cooler at night, Sedona has always been a great summer getaway from the big city. Now you have a whole new reason to go, great wines at very cool boutique wineries located in areas as diverse as Page Springs (think wine tasting and noshing on a shady deck under towering cottonwoods overlooking the vines) to Jerome (think funky shopping in a ghost town with four tasting rooms in the same block).
You may tour wine country yourself or join Sedona Adventure Tours on one of their many wine country itineraries that begin right at the front door of the Sedona Rouge Hotel & Spa. As warmer days beckon, the Rouge is excited to announce the return of the Water to Wine Package; three days and two nights accommodations, with a moderately adventurous 'funyak' trip down the Verde River capped off with wine tasting at Alcantara Vineyards. The Water to Wine package is $890 and includes a welcome amenity, gift certificates for the winery and $100 hotel credit for REDS Restaurant and/or The Spa at Sedona Rouge. Or, try the escorted outing to pretty much the whole area, including a leisurely stop in Jerome where you have plenty of time to visit all four wineries. Then it's on to Page Springs, the epicenter of Verde Valley wine, with three acclaimed wineries situated along a short stretch of country road amidst hills draped with vineyards beside the cool presence of Oak Creek.
Back to the Sedona Rouge at the end of a long, lovely day...and it is essential to get into essential oils. The sensuous Couples Massage, a Spa signature treatment, soothes tired muscles and ignites imaginations. The day's progression of events has reached a languid, yet electric moment and the evening is full of possibilities.
About Sedona Rouge Hotel & Spa
A member of Luxe Worldwide Hotels, Sedona Rouge Hotel & Spa is a AAA Four Diamond hotel located in Sedona, Arizona. It features authentic Mediterranean design, boldly merging all the colors of its dramatic setting into a seamless blend of Andalusian luxury unlike any other hotel in Sedona, Arizona. The Sedona Rouge offers: 77 guest rooms, including suites and spa guest rooms, REDS Restaurant and the Spa at Sedona Rouge. It lends itself nicely to both business and pleasure with over 5,000 square feet of indoor and outdoor meeting/event space, an outdoor pool and Jacuzzi™ with fireplace an intimate sitting area, a glass walled exercise room viewing the pool area, outdoor courtyards designed with Tunisian artifacts and fountains. The Sedona Rouge Hotel & Spa offers privacy, luxury, romance, adventure, relaxation and rejuvenation. It is an ideal retreat for a romantic occasion, a girlfriend's getaway or an executive meeting. For more information, visit http://www.SedonaRouge.com or call 928.203.4111.
###