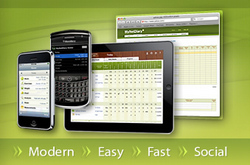 The MyNetDiary iPad App is a one-stop diet solution. You don't need diet pills, silly fads and dust-laden libraries of diet books to lose weight – you simply eat better.
Cherry Hill, NJ (PRWEB) May 3, 2010
The latest offering by MyNetDiary in weight loss software and services hit the iPad App Store's "cyber shelves" and is proving a powerful tool for diet planning, management, and food and exercise tracking.
"The MyNetDiary app for iPad fully leverages the iPad's unique capabilities," says Sergey Oreshko, CEO of 4Technologies Corporation. "It is at once a simple, elegant and incredibly easy solution for keeping a food diary while helping people lose weight in the most natural way – by making better food choices and eating better."
Featured on NPR's Morning Edition and the USA TODAY Weight-Loss Challenge, MyNetDiary gives users an edge in their weight loss battles because, according to a study in The American Journal of Preventative Medicine, people who keep a daily food diary lose more than twice as much weight as those who do not record their food intake.
"The MyNetDiary iPad app is a one-stop diet solution," adds Oreshko. "You don't need diet pills, silly fads and dust-laden libraries of diet books to lose weight – you simply eat better. And our iPad app makes eating better much, much easier."
The iPad's large touchscreen coupled with MyNetDiary's unique search-as-you-type data entry is perfect for quick entry of foods and exercise - taking only a few taps. The iPad app automatically syncs to a member's online account and those who also use MyNetDiary's website, or existing iPhone or BlackBerry apps don't have to worry about entering foods multiple times. Enter once and it is done.
Tens of thousands of people have already reached their diet goals naturally by using MyNetDiary and making better daily food choices.
For more information about MyNetDiary and the new iPad app, visit http://www.mynetdiary.com. The MyNetDiary iPad app can also be directly downloaded through iTunes here: http://itunes.apple.com/us/app/id364875034.
About MyNetDiary
Launched in 2007, MyNetDiary is a comprehensive, modern online diet service that helps people lose weight safely while following American Dietetic Association guidelines. MyNetDiary offers free and paid subscriptions for their services, which include personalized analysis of calorie and nutrient needs, assistance with target weight goals, and access to personalized progress charts, as well as iPhone and BlackBerry apps for mobile tracking.
###