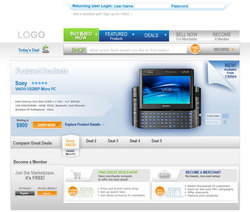 Our web applications in fact are really designed to help small business owners and entrepreneurs compete with major industry players Like Amazon, Ebay, CDW, and Pricegrabber.
Montrose, CO (PRWEB) May 11, 2010
Website development and professional design agency Apples 2 Apples located on the western slope of colorado is finding great success building simple, powerful, and meaningful web applications for budding small business owners.
Taking their previous know how and expertise operating online superstores for savvy computer hardware and software shoppers. Apples 2 Apples found that many would be entrepreneurs have the desire but lacked the know how to start their own small business online.
So Apples 2 Apples decided to take their own software and rewrote it to aid others to setup an affordable Online Computer Hardware and Software Superstore.
"Our software really goes beyond just the basics of getting a simple ecommerce store. We found many individuals attempting to put together ecommerce stores to resell products of one kind or another. But lacked a sufficient platform and the knowledge of which product types to sell." Says, Founder Chris Cuellar.
With many types of ecommerce stores available Apples 2 Apples had to set out to create something truly different with its own set of the rich features that website owners were calling for, so slowly and incrementally, they began adding features to support advanced SEO, Feed Optimization, URL Resolving, Marketing Materials, Rich Feature Catalogs, Seamless drop ship order integration, Live UPS and Fedex Shipping Rates, Multiple Checkout options like Google Checkout, and Paypal. Support for popular merchant processing services, Record Creation for Easy Email marketing Campaigns, Live shopping feed updates, ultimately adding a 100,000 Product database complete with images, tech notes, marketing driven product descriptions and pricing from leading Manufacturers.
"We felt more was required that merely presenting an ecommerce app or store front, we needed to share what we knew about which types of products sell best and give online retailers a real shot at meaningful success online." says Chris
Really that was the beginning of a new type of business for our company. Our business became writing successful website applications that either solved a business challenge facing would be business owners or we created a new product altogether that allowed a seemingly small startup company operate like the big online stores.
That's where we got our idea to create a online shopping comparison site that any capable small business owner or entrepreneur could operate profitably.
So just that fast that's what we did, and now we had two web applications in development. Initially, we had the ecommerce storefront that offers potential business owners the ability to operate their own online computer hardware and software superstore. Secondly, a Shopping Comparison site right out of the box complete with a 1,000,000 plus products database each item with multiple product images, tech notes, specs, and documentation.
Our web applications in fact are really designed to help small business owners and entrepreneurs compete with major industry players Like Amazon, Ebay, CDW, and Pricegrabber. In all honestly we have all of the technology they do built right into each of our products.
This has really been a great opportunity for us to showcase our potential. In fact one of our taglines is "If you can dream it, we can build it".
So what's next, for this budding technology disrupter? "Well we've got several technologies we are considering submitting patents for" says Chris.
"In addition to that we are really in deep redesigning our own website. We figure its time our site show cased not only our products but also the depths of our service offering."
"We take a very comprehensive approach to design from Creative Briefs, Story Boards all the way through Site Architecture."
Apples 2 Apples is a different kind of website development and web design agency. You speak, we listen and together we'll craft a solution that works.
If you would like more information regarding the services and products offered by Apples 2 Apples you can reach us at (970) 901-0062 or email: Chris(at)apples2apples.us(dot)com
###