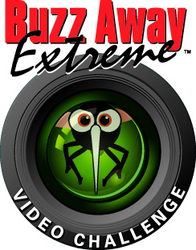 This animated video featuring Buzzy the Mosquito will run at the end of each video entry, freeing the filmmaker from having to produce a product focused piece.
Eugene, Oregon (PRWEB) May 4, 2010
For over 2 million summers mosquitoes have been making pests of themselves by zooming into people's lives. Now, it's your turn. Get out your camera, make a short video about mosquitoes and you might find yourself $1,000 richer!
Quantum Health, the makers of the leading all-natural insect repellent, Buzz Away Extreme, is launching a video contest with prizes totaling $1,250. The top $1,000 prize will be awarded to the most creative, original and humorous video about mosquitoes. A second prize of $250 will be awarded to the video with the most views. Entry information can be found at BuzzAwayVideo.com
Although the contest is sponsored by Buzz Away Extreme, videos are not required to show or use the product. "Video makers don't need to purchase Buzz Away Extreme or even feature it in their video unless they want to," explained company CEO, David Shaw. Instead, once the video is uploaded, it will automatically run with a special Buzz Away Extreme video tag at the very end. "We want video makers to feel free from commercial constraints and be as creative as they wish," Shaw added.
But there are some rules. For example, if a repellent is used in the video, only fantasy or imaginary mosquito repellents or contraptions may be featured. Branded or real homemade mosquito repellents are not allowed.
Entrants are encouraged to come up with original ideas; however Buzz Away offers a few storylines to help people get started:

A day in the life of a mosquito
Funniest mosquito experiences
Craziest mosquito repellents (no real products may be used)
People who are mosquito "magnets"
Favorite mosquito hangouts
Mosquitoes in the news
What "bugs" you the most about mosquitoes
The prizes will be awarded based on the following: BEST VIDEO: $1,000 Grand Prize Entries will be judged on their creativity/originality (40%); wackiness, humor, weirdness or strangeness (30%); and production quality (30%). Our judges will pick the Top Ten and then viewers will choose the final winner, who will receive $1,000. MOST VIEWED: $250 Prize It's all about raw numbers here. Whoever receives the greatest number of total views, wins!
The contest is open to anyone 13 years of age or older and entries will be accepted until June 30, 2010. Video contst entries can be submitted here.
Buzz Away Extreme is an all-natural, highly effective, chemical-free way to repel mosquitoes, ticks, flies, gnats and no see ums. Independent clinical and field testing show that Buzz Away Extreme can last for 4 hours and more, and is as effective as many traditional, chemical based formulas. Years of customer satisfaction have made Buzz Away Extreme America's leading natural mosquito repellent. LIKE us on Facebook!
Quantum Health – Natural Products That Make a Difference – is a natural over-the-counter (OTC) products company founded in 1981. Key brands include Lip Clear Lysine+ for cold sores, Canker Cover for canker sores, OraMoist for dry mouth, Thera Zinc and Elderberry for cold and flu, Buzz Away natural insect repellents, Quantum Derma for skin rescue and Super Lysine+ for immune support. Based in Eugene, OR, Quantum makes more than 50 products that are available throughout the United States and Canada in food, drug and mass market retailers, as well as health food stores and online. Call toll-free at 1-800-448-1448 or visit http://www.QuantumHealth.com
###