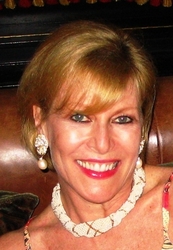 "Finding the right fragrance can be so uplifting, similar to hearing a favorite old song on the radio. Fragrance triggers emotions and pleasurable memories and can really affect your mood all day"
Southampton, NY (PRWEB) May 6, 2010
America has joined the party! One of the most successful new business trends in the UK and Europe has now spread to the U.S., thanks to Sue Phillips, President of Scenterprises Ltd. No more smelling a million perfumes at the department store looking for the perfect match. The Perfume Studio, which originated in the UK, has developed 'bespoke' perfumery or custom perfume events where guests get to walk away with their very own signature perfume.
Much like a wine tasting workshop, guests are invited to explore the sensory aspects of fragrance and see how memory and emotions are so interwoven with our sense of smell. A Fragrance Expert takes them on an 'olfactive fragrance journey' to experience 18 different perfume blends - from citrus, spices, florals, and musks to woods and balsamics. The blends have been created by a world-famous perfumer and are designed to be worn in combination with each other or alone.
Once a guest makes his or her selection, the Fragrance Expert decants the perfume oils and blends the 'formula', and guests leave with their very own personalized signature fragrance. Their 'formula' is stored in a database for ease of reordering.
Sue Phillips, who also created the 150th Anniversary TIFFANY fragrance, as well as fragrances for Burberrys, Trish McEvoy, and Lancome, is excited to bring this new experience to the U.S. "Finding the right fragrance can be so uplifting, similar to hearing a favorite old song on the radio. Fragrance triggers emotions and pleasurable memories and can really affect your mood all day", explains Sue. She now offers custom perfume seminars every Tuesday in New York, and select events across the country.
Many corporations have also used this unique experience in team building and leadership events. "The Custom Perfume experience that you ran for us with such passion and panache was simply scentsational. It was a big hit with all dozen communicators (both male and female) at our off-site meeting. Usually we are more into words and press releases, so you unleashed extra senses and creativity too. It was a truly interactive, fun, learning afternoon" says Paul Newman, Head of Global Communications, Novartis Vaccines and Diagnostics.
Scenterprises caters to the new Environmental Scenting trend with casinos, resorts and spas looking for their own custom "scent branding". It seems everyone wants their own scent.
The next local event will take place in Sag Harbor (the Hamptons) on Saturday, May 22, 2010 from 4:00 PM - 6:00 PM. Those guests will not only get to create their own custom creation, but also be treated to a "Wine and Scent Pairing". Visit The Perfume Studio for more information and to reserve a space.
ABOUT SUE PHILLIPS and THE PERFUME STUDIO
Ms. Phillips is President and Founder of Scenterprises Ltd. and a Fragrance Expert well known for having created, developed and launched TIFFANY perfume as Vice President of Tiffany & Co., for their 150th anniversary, as well as numerous other internationally successful fragrances and initiatives for Avon, Burberrys, Chopard, Davidoff, Diane Von Furstenberg, Lancôme, Oilily & Trish McEvoy.
Sue's new venture, The Perfume Studio, develops custom perfume experiences for salons, spas, bridal showers, ladies night out, couples, girlfriends, families, corporate team-building events, holidays and special events.
To learn more about upcoming events, visit The Perfume Studio.
###