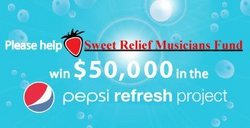 Huntington Beach, CA (PRWEB) May 28, 2010
Sweet Relief Musicians Fund, a national non-profit charity has qualified for the Pepsi Refresh Project; a yearlong program committed to funding organizations and individuals engaged in a variety of social causes.
Sweet Relief is competing for one of ten $50,000 grants. Winners are determined by number of votes, which takes place June 1 to June 30. Participants can register and vote once per day at http://www.refresheverything.com/light-registration.
Since 1993, Sweet Relief Musicians Fund has been providing financial assistance to career musicians suffering with illness, disability or age related problems.
In addition to helping local musicians throughout the country, Sweet Relief has taken on several campaigns to help some of our countries greatest artists. Rob Max, Communications Director of Sweet Relief talked about this expanded role for his charity: "Over the past year we have administered a campaign for Richie Hayward, drumming great for Little Feat & Robert Plant, to help in his fight against cancer. Additional we recently began working with Lester Chambers, music legend originally of The Chambers Brothers, who after losing his home, faces medical challenges of needing back, eye and dental surgery. These artists have been gracious enough to share their private health challenges so as to bring light to the hardship virtually all musicians face when illness strikes." Max also stated, "The next decade will have many of our pop/rock heroes entering their 60's and 70's and the music industry safety net is grossly insufficient."
Friends and fans of music are the best hope for artists in trouble. Voting for Sweet Relief Musicians Fund in the Pepsi Refresh Charity give-away is a good step toward healing our nation's great artists.
###