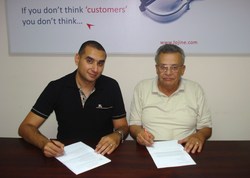 This new technology is the full scope manifestation of the dreamed bio-refinery
Cairo, Egypt (PRWEB) May 13, 2010
LOJINE Consulting brings to light critical insights on the biofuels deal which took place last December. Moustafa El-Shafie - the inventor of a new biofuels technology proposed an optimal solution to great issues facing the world today; issues that have political, economic and social dimensions. The new technology provides an opportunity to empower the world by using biofuels applications which would in turn reduce oil dependence, greenhouse gas emissions, and global warming.
"During our research, we – LOJINE Consulting - found out that this invention, not only meets the USA Department of Energy – Biomass Program road map in terms of increasing profitability, driving down production costs and maximizing the use of all feedstock components, but actually surpasses it in terms of feedstock diversification" said Mostafa Mito - Founder & Managing Director of LOJINE Consulting.
In an overview of the invention, Moustafa El-Shafie wrote:
In a short overview: it is the full scope manifestation of the bio-refinery dream; this technology produces liquid biofuels (biodiesel, and ethanol and/or butanol) and hydrogen as fuels out of one feedstock. Additionally, it produces, within the same process, valuable materials such as amino acids, sugars, sugar related compounds, phinolics, organic and inorganic acids, enzymes, elements, nitrogenous compounds; etc.; this technology produces all the components present in the bio-cell in their simple hydrolyzed form. The technology also produces directly and/or indirectly the 12 chemical building blocks. A massive quantity of fresh water is also produced because water is the major part by weight of the bio-cell. Some of the valuable materials could be extracted as commodities or raw materials in several industries. Also part of the valuable materials could be used as organic fertilizers and/or nutritional supplements for livestock, poultry, swine and/or fish. Using the technology's valuable materials as organic fertilizers and nutritional supplements will have a positive impact on green house gas emissions (Methane CH4 & Nitrogen dioxide NO2) and it will have an even greater positive impact on land desertification, on water crises, on acid rains, and on dead zones created by the agricultural runoffs. Both of these positive impacts have a synergistic relation to each other. These positive impacts will yield substantial revenues to the technology through the exponentially expanding carbon market.
It should be highlighted that this technology does not include thermal applications; it is expected to have an unprecedented positive energy balance. Also, this technology does apply neither acids nor extracted or manmade enzymes.
All above unlimited products are produced indirectly out off any degradable material, with priorities. Biofuels could be produced out of calcium carbonate, abattoir blood, nematodes, crude oil, coal, cellulosic materials, municipal wastes, industrial wastes, agricultural wastes, etc. as very few materials' examples; those materials are uncountable. Agricultural crops could be utilized as feedstock but they have a descended priority as well as crude oil and coal. Agricultural wastes are top priority.
Contacts:
Tarek Reda
pr(at)lojine(dot)com
(+2) 010-518-6996
About LOJNE Consulting:
LOJINE Consulting assists small and medium sized enterprises to attain growth in sales & profitability. Services include marketing outsourcing, b2b marketing, b2b sales, e-strategies and business plans.
Established in Egypt in 2004 by Mostafa Mito, LOJINE Consulting comprises a set of internationally experienced professionals with a solid marketing background. Practical, agile, and friendly is what defines the LOJINE team.
Learn more about LOJINE Consulting at http://www.lojine.com
###