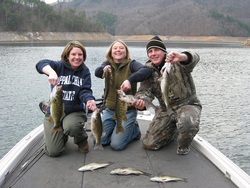 "Coming off of a long cold hard winter the fishing has exploded. It's been the best it has in a long time and people are ready to get outdoors."
Asheville, NC (PRWEB) May 3, 2010
Western NC Guide Service, Up-Close Outfitters, is starting the season off with great catches and expects the fishing to get even hotter.
Up-Close Outfitters has seen the good, the bad, and the ugly in the fishing industry. Coming off a harsh winter, down economy, and high gas prices the company has welcomed the 2010 spring and summer fishing season. Fortunately, this year the fishing started off hotter than ever and they predict a season for the record books.
"Coming off of a long cold hard winter the fishing has exploded. It's the best it's been in a long time and people are ready to get outdoors." says Frank, owner of the business. Up-Close Outfitters has been capitalizing on this recent upswing. Fishing for lake trout, large and small mouth bass, and Striped bass, they have been hitting the lakes harder than ever and bringing back some very impressive stringers (not to mention happy customers). With the spawning of most game fish within the next few months they are predicting a season like none before.
Up-Close Outfitters has selected some very impressive lakes. Focusing entirely on Lake Hartwell and Jocassee in South Carolina, and Fontana in North Carolina, these lakes offer incredible scenery and outstanding fishing. Two of the three being high mountain reservoirs, the lake trout and small mouth trips are one of a kind. With 25 plus years fishing experience, Up-Close Outfitters has a real neck for catching giant fish. In 2010 they expect to bring several bass over 8 pounds out of Lake Jacassee and see catches of 50 plus small-mouth come out of Lake Fontana.
The business has been focusing more on Lake Fontana in the past few years. The lake is a well respected small-mouth fishery and people come from all over the country to wet a line. "Being in drought for over 5 years the lake is finally at full pond. This creates more cover for the bass and trout. Combine this with a harsh winter, stricter fishing regulations and recent pollution control we get a fishing season that could bust the record books wide open." Says Frank.
Writing in their fishing report blog the guide service gives excellent tips for the recreational fisherman. A day by day account of location, lures, and presentations used that day are included in every report. This is very useful for those not able to fish every day.
About Up-Close Outfitters
Founded in 2007, the company was created by Frank Askew, a lifelong tournament and commercial fisherman, who lived and breathed hunting and fishing. Now he runs a successful guide service focusing on Western NC lakes and National Forest. His company is now the only Federal Permitted guide service to hunt the Pisgah National Forest. Today the company has expanded to making custom hunting and fishing maps along with some of the most exciting outdoor adventures NC has to offer.
###