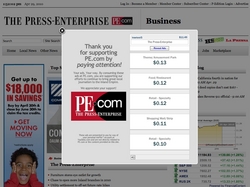 By putting all the right incentives in place, advertising just works better, and everybody's happy - consumers, advertisers, and publishers.
Riverside, CA (PRWEB) May 4, 2010
Houston-based YouData, Inc. (YouData.com), a new kind of ad network that bills itself as "the world's first attention payment system", has partnered with Riverside, CA-based The Press-Enterprise (PE.com), an A. H. Belo publication, to bring Press-Enterprise online readers an innovative new way of interacting with advertising.
Advertisers and consumers get matched up based on compatible traits in private opt-in consumer profiles called "MeFiles".  Advertisers then bid to buy ultra-targeted attention directly from the source; the consumers themselves, who get paid for engaging with the ads.
According to Trae Nickelson, President of YouData, "Our model provides consumers with incentive to define the type of ads that interest them and to give high quality attention to those ads that do.  By putting all the right incentives in place, advertising just works better, and everybody's happy - consumers, advertisers, and publishers."
Anita Davis, Director of National & Major Accounts at The Press-Enterprise, says that YouData's product "offers what our advertisers have been asking for - a way to pay for and deliver ads to the right audience.  YouData is giving a lot of control to the advertiser and removing a lot of the risk.  We expect it to be a great addition to our portfolio of advertising solutions."
YouData's CEO Jim Prather says, "We are proud and excited to count PE.com as our first major newspaper partner.  When we first met the PE team, it was immediately apparent how genuinely committed they are to serving their readership and community.  So when they decided that our advertising solution was worthy to present to their readers and advertisers, we considered it real validation of what YouData is doing."
"We think our readers are going to enjoy this", says Ron Redfern, Publisher and CEO of The Press-Enterprise. "It will be interesting to see how the test of this new ad model plays out."
To see this experiment in advertising in action, visit http://www.pe.com.  
To learn more about YouData, visit http://www.youdata.com.
About the Press-Enterprise Company
The Press-Enterprise Company, a Riverside-based subsidiary of A. H. Belo Corporation, is a multimedia company serving Inland Southern California. The company publishes news and information in print and online via The Press-Enterprise, the region's largest daily newspaper and PE.com, the region's largest local online Web site reaching a combined total of nearly 900,000 readers. Through other print and online products including The Business Press, a weekly business journal; La Prensa, weekly Spanish-language newspapers serving the region's diverse Hispanic community; and InlandSoCal.com, the Press-Enterprise Company products reach nearly 1.5 million people each month in the Inland Southern California region.
About A. H. Belo Corporation
A. H. Belo Corporation (NYSE: AHC), headquartered in Dallas, Texas, is a distinguished newspaper publishing and local news and information company that owns and operates four daily newspapers and a diverse group of Web sites. A. H. Belo publishes The Dallas Morning News, Texas' leading newspaper and winner of eight Pulitzer Prizes since 1986; The Providence Journal, the oldest continuously-published daily newspaper in the U.S. and winner of four Pulitzer Prizes; The Press-Enterprise (Riverside, CA), serving southern California's Inland Empire region and winner of one Pulitzer Prize; and the Denton Record-Chronicle. The Company publishes various specialty publications targeting niche audiences, and its partnerships and/or investments include the Yahoo! Newspaper Consortium and Classified Ventures, owner of cars.com. A. H. Belo also owns direct mail and commercial printing businesses. Additional information is available at http://www.ahbelo.com or by contacting David A. Gross, vice president/Investor Relations and Strategic Analysis, at 214-977-4810.
About YouData, Inc.
YouData, Inc., a brand new ad network headquartered in Houston, Texas, bills itself as the world's first "attention payment system". YouData allows consumers to package and sell their own attention directly to interested advertisers. Consumers build MeFile™ accounts in which they voluntarily describe key consumer characteristics and interests. Advertisers use the same traits to define precise target audiences and have their advertisements matched to exactly the targeted consumer every time. Ad irrelevancy is virtually eliminated, and a high value engagement between consumer and ad is delivered every time. Publishers hosting this high-value exchange gain an effective additional revenue source, while providing a new level of value to both reader and advertiser.
# # #