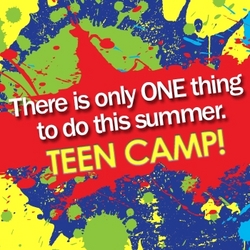 "Thank goodness you created this camp, because without it, I would be sitting at home watching TV. Instead I got to write and I learned so much!"
San Diego, CA (PRWEB) May 1, 2010
High school students will be able to rock their summer through academies being offered by San Diego State University's College of Extended Studies for five weeks during July and August.
The third annual SDSU Summer Teen Academy offers weeklong options beginning Monday-Friday, July 12-16 through the week of August 9-13 that will provide opportunities to hang out on a college campus, learn from industry experts, and develop skills for future careers.
Would you like to try out Parliamentary debate? Take part in a mock trial? Learn about crime scene technology? Visit area TV stations as part of TV news production? Or even discover how to create video games?
All of these opportunities will be available to you one week at a time during the summer teen academies.
Summer camps provide you with the chance to develop character, learn valuable life skills, make new friends, and discover new interests. All day camps are for grades 9-12, 8:30 am-4 pm, Monday through Friday and are located at the SDSU Extended Studies/Gateway Centers.
Camp dates include:
July 12-16: Parliamentary Debate
July 19-23: Mock Trial
July 26-30: Crime Scene Technology
August 2-6: TV News Production
August 9-13: Video Game Design
Price is $299 per camp. Extra curricular activities include bowling and a pizza luncheon. Enroll now to hold your seat in these exciting new camps!
Colleges are keeping an eye out for high school students who can show they have a wide range of interests. It's time for them rock their summers and enhance their chances of attending college one day.
Here are some of the comments from previous campers:
"Thank goodness you created this camp, because without it, I would be sitting at home watching TV. Instead I got to write and I learned so much!"
"Thank you for creating this camp. I can not wait to come back next summer."
"The experience and new friendships were great. Everyone was able to grow as a result of this camp. Thanks for the opportunity!"
This is a San Diego State University Research Foundation Program.
###