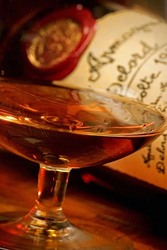 "Armagnac is the oldest wine based eau de vie in France. It is produced in the heart of Gascony, Southwestern France, by a single distillation of white wine in an Armagnac alembic (still) and then left to age for many years in oak barrels." BNIA web site
Lakeville, MA (PRWEB) May 3, 2010
Heavenly Spirits LLC, importers specializing in fine French spirits has earned the top US Armagnac distribution ranking for the second consecutive year, based on the importation and sales of a variety of Armagnac brands it represents. These Armagnac brands include Delord, Marie Duffau, Dartigalongue, Chauffe Coeur, and Artez.
The BNIA is the official trade office of the Armagnac region in France and according to its web site, "Armagnac is the oldest wine based eau de vie in France. It is produced in the heart of Gascony, Southwestern France, by a single distillation of white wine in an Armagnac alembic (still) and then left to age for many years in oak barrels."
Coincidently, this year marks the 700th anniversary of Armagnac distillation. BNIA sponsored celebrations are planned for cities around the globe including London, Moscow and Chicago, IL. For its part, Heavenly Spirits plans to celebrate the 700th anniversary and its top distributor ranking by continuing to promote Armagnac across the US through seminars and tastings in each of the states where its products are distributed. It also has plans to offer various Armagnac related prize give-aways (swag) through social media sites like Face Book and Twitter.
As the Gascony region celebrates these past seven hundred years of producing Armagnac, it is interesting to note that according to the Christian monks who first recorded its production, Armagnac was originally used for medicinal purposes. It was in 1310 that Maitre Vital Dufour (a future French Cardinal) wrote in praise of the beneficial properties of "eau de feu," (fire water) as Armagnac was originally known. According to Dufour, "This water, if taken medically and soberly is said to have 40 virtues... It enlivens the spirit, partaken in moderation, recalls the past to memory, renders men joyous, preserves youth and retards senility..." Some of the many ailments this eau de vie was believed to cure include: hepatitis, gout, ulcers, and open wounds. It might not be a coincidence that the people of the Gascony region are known to live longer on average than anywhere else in France.
Heavenly Spirits LLC is a US company based in Lakeville, MA, specializing in the importation and distribution of award winning French spirits, including: Armagnac, Cognac, Calvados, Absinthe and Rum.
# # #