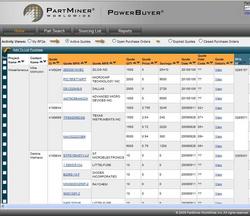 "Companies of all sizes and types are finding that PowerBuyer makes each buyer more effective."
Denver, CO (PRWEB) May 3, 2010
PartMiner WorldWide announced today that customer adaptation of PowerBuyer has resulted in a significant expansion of its component business in OEM and EMS customers in Asia, Europe and the United States. More than 100 companies are now actively using the online quoting and purchasing system to perform technical and market analysis of parts requirements and then actively execute purchase transactions.
"PowerBuyer is rapidly becoming a mainstream tool for buyers at electronics manufacturers of all sizes and all types throughout the world," explained Chris Meyer, CEO of PartMiner WorldWide. "We are able to provide a broader supply market and deliver a very wide range of qualified quotations for most requests submitted through PowerBuyer. We are serving many new customers who were previously underserved by traditional distribution channels."
PowerBuyer has been important to component buyers throughout the recent worldwide component shortage. It expands a buyer's supply base to some 15,000 vendors, including more than 2,000 franchise distributors, who competitively quote on requirements through PartMiner's international sourcing network.
"Companies of all sizes and types are finding that PowerBuyer makes each buyer more effective," Meyer continued. "The unique combination of technical information and market intelligence allows a buyer to easily find replacement parts where there are supply chain challenges, expanding the available supply and supplier base.
PartMiner collects market intelligence from more than 15,000 supply sources worldwide – representing millions of component transactions and hundreds of millions of lines of active inventory. PartMiner employs more than 300 electronic component professionals worldwide. The company's CAPS™ database is the leading resource of technical information in the industry. It covers more than 140 million individual components from more than 1800 active manufacturers. PartMiner provides electronic component procurement services to more than 12,000 companies worldwide. PowerBuyer is available as an online service through membership subscription. It incorporates PartMiner's transactional platform, supply and demand database, and the CAPS technical database.
PartMiner WorldWide Inc., is headquartered in Centennial, Colorado, USA and has U.S. offices in New York, California, Florida and Massachusetts. International locations include Brazil, China (Shenzhen, Shanghai, Suzhou, Beijing, and Hong Kong), Finland, France, Germany, India, Israel, Mexico, Singapore, Sweden, and the United Kingdom.
###