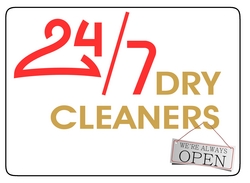 Why should they continue to pay royalties for something they really no longer need to use to be successful?
Greenwood Village, CO (PRWEB) May 1, 2010
MyDoor Dry Cleaning and 24/7 Dry Cleaners announced today that they will be offering both established business models with Trade Name License Agreements to qualified individuals and organizations throughout the United States and Canada. Founder and CEO of both brands, John Dame, believes that licensing over franchising is a better fit within the lucrative dry cleaning industry.
"We've learned over the years that when our people are sold a solid turn key business, over time these franchisees truly need less support in both the mobile and retail side. Why should they continue to pay royalties for something they really no longer need to use to be successful?" Mr. Dame asks. "How does that make good business sense in this economy?"
The MyDoor/DTD Dry Cleaning brand started operations in CO in early 2004, and has grown to 14 current units. This sector of their offering focuses on providing dry cleaning and laundry services, which are delivered to either customer's homes or businesses by cargo van. The 24/7 Dry Cleaners brand was developed to gain access to the considerable amount of traditional dry cleaning consumers, who prefer to drop off and pickup their garments from retail stores, which are located in high-traffics areas, such as next to Starbucks' locations. 24/7 Dry Cleaners opened their 1st unit in Parker, CO January 2010 with great results. As of December 31. 2009 units of both MyDoor/DTD have exceeded $5mil in sales revenues.
Mr. Dame states the following; "This is a great opportunity for entrepreneurial minded people to fulfill their dream of owning and operating their own business, without the red tape of bureaucracy often associated with franchising. We offer complete turn-key operations with top brands in both the delivery and retail dry cleaning side."
The complete business offering includes the entire use of their trade names as well as their business and marketing systems. Their license model offers many benefits over industry competitive franchise models with most notably: no royalties, fewer rules and restrictions, and a superior image designed to attract high income customers. The license offering allows business owners superior business models at affordable prices, giving access into the highly profitable world of dry cleaning.
"Our unique pedigree of branding and our expert knowledge of marketing is this industry allows us to even enter areas that may seem saturated by existing dry cleaners. Our brands soon dominate those markets, because we offer so much more than a regular dry cleaners." It seems this innovative company may now offer more to their owners as well.
More information on both MyDoor Dry Cleaning and 24/7 Dry Cleaning can be found at http://www.MyDoor.biz and http://www.247DryCleaners.com
# # #