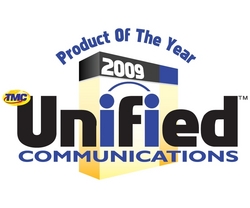 "It is an honor to grant Aastra a 2009 Product of the Year Award for their CMG Application Suite. Aastra has proven its dedication to quality and excellence while supporting the needs in the marketplace"
(PRWEB) May 4, 2010
Concord, May 4th, 2010 – Aastra, a leading company at the forefront of the enterprise communication market, announced today that Technology Marketing Corporation (TMC®) has named the Aastra CMG Application Suite as a recipient of its 2009 Unified Communications magazine Product of the Year Award.
CMG Application Suite is an advanced contact management system for organisations seeking to improve their customer service as well as the efficiency of their business processes. It enables switchboard operators and office users to control their presence and availability, and to easily access and manage advanced services over their telephone.
Aastra's CMG Application Suite is a leader in the area of Unified Communications, developing products for Activity and Availability Management, Attendant Consoles, Speech Dialers, Desktop Call Handling and Team Collaboration.
"This Award is a great testament to Aastra's engineering heritage, substantial investment in research and development, and reputation for bringing highly-focused products and solutions to market," said Mark Marshall, Vice President of Canadian Enterprise Sales at Aastra. "Over 2,000 organisations and telecom operators around the world use our CMG Application Suite to drive greater efficiencies and improve customer experience."
"It is an honor to grant Aastra a 2009 Product of the Year Award for their CMG Application Suite. Aastra has proven its dedication to quality and excellence while supporting the needs in the marketplace," stated Rich Tehrani, CEO, TMC. "We look forward to seeing continued advancement in technology solutions from Aastra in the future."
A complete list of Product of the Year Award winners will be published in the April/May 2010 issue of Unified Communications magazine, http://www.uc-mag.com.
About Aastra
Aastra Telecom is a Canadian business unit of Aastra Technologies Limited, (TSX:"AAH"), a leading company at the forefront of the enterprise communication market. Headquartered in Concord, Ontario, Canada, Aastra develops and delivers innovative communications products and applications for businesses. Aastra's operations are truly global with more than 50 million installed lines around the world and a direct and indirect presence in more than 100 countries. Aastra is entirely dedicated to enterprise communications and offers one of the most complete portfolios of unified communications solutions individually tailored to satisfy its customers' requirements. These range from feature-rich call managers for small and medium businesses and highly scalable ones for large enterprises, integrated mobility, call centres solutions to a wide selection of terminals. With a strong focus on open standards, Aastra enables enterprises to communicate and collaborate more efficiently. For additional information on Aastra, visit our website at http://www.aastra.com
About Unified Communications magazine
Launched in July 2007, Unified Communications magazine is devoted to educating enterprise decision makers on why and how they need to deploy unified communications (UC) solutions. Every issue of Unified Communications magazine features a comprehensive news section; case studies of successful deployments and lessons learned; interviews with leading hardware and software companies; and an 'industry' section, featuring analysis of important mergers and acquisition, partnerships and a Wall Street perspective on the unified communications market. Unified Communications has a readership of 100,000. For more information, please visit http://www.uc-mag.com.
About TMC
Technology Marketing Corporation (TMC) is a global, integrated media company helping our clients build communities in print, in person and online. TMC publishes Customer Interaction Solutions, INTERNET TELEPHONY, Unified Communications, and NGN magazines. TMCnet, TMC's Web site, is the leading source of news and articles for the communications and technology industries. TMCnet is read by two million unique visitors each month on average worldwide, according to Webtrends. TMCnet has ranked within the top 3,500 in Quantcast's Top U.S. sites, placing TMCnet in the nation's top .03% most visited Web sites. In addition, TMC produces INTERNET TELEPHONY Conference & EXPO (ITEXPO); 4GWE Conference and M2M Evolution (in conjunction with Crossfire Media); Digium|Asterisk World (in conjunction with Digium); and Smart Grid Summit (in conjunction with Intelligent Communication Partners).
TMC also serves technology professionals with industry-specific Web sites: IT.TMCnet.com, 4G-wirelessevolution.TMCnet.com, M2M Evolution.com, Smart-Grid.TMCnet.com, Smart Products Ecosystem, Robotics.TMCnet.com, Cable.TMCnet.com, Satellite.TMCnet.com, Green.TMCnet.com, Healthcare.TMCnet.com, and Education.TMCnet.com.
Aastra® is a registered trademark of Aastra Technologies Limited in the United States and Canada. All other product and company names herein may be trademarks of their registered owners.
# # #