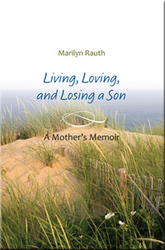 When Robb died we were all devastated. I felt like a zombie for the first few years walking around aimlessly
Bloomfield Hills, MI (PRWEB) May 3, 2010
Local Bloomfield Hills Township resident, Marilyn Rauth, is pleased to announce the recent publication of her book, Living, Loving and Losing a Son. It's a mother's memoir about her son Robb that died unexpectedly, and how she and the rest of her family survived the ordeal. It is also about hope and healing from all parents worst nightmare – the loss of their child.
"When Robb died we were all devastated. I felt like a zombie for the first few years walking around aimlessly, in a trance, not caring about anything and not thinking that I could endure the pain. But endue I did, and badly. I couldn't believe how much it hurt and the cruelty that my first born son, died before I did." Comments Marilyn Rauth, author. "After some time I was able to deeply appreciate the time I did have with him and heal from his death. Ironically writing this book about grief was a considerable help for me, it was therapeutic and forced me to really deal with the loss."
As much as the book is about losing her son, it is also about life in general. Such as how she and Robb grew up together, as only a young mother of 20 could. His time in Africa, doing charity type work, which eventually lead to his career in international consulting where he worked with many third and fourth world governments . Her experiences in running a garbage business, here in South East Michigan and their many family adventures.
"For me losing my son was unbelievably gut wrenching. But as time went on, I was able to eventually accept his loss and to be at peace with it. For any parents that have gone through the same tragedy, my heart goes out to you."
The book is available at her website at http://www.loss-of-child.com.
###