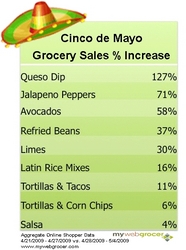 Colchester, VT (Vocus) May 1, 2010
Grocery shoppers across the nation spice up their shopping lists when Cinco de Mayo rolls around, according to recent shopper data released by MyWebGrocer. Sales of traditional Mexican cooking ingredients show a marked increase as Americans prepare to celebrate Mexican heritage on May 5th.
Fiesta foods take center stage at the table this time of year: sales of queso dip for example, increased 127% over the previous week in the days leading up to the Mexican holiday. Jalapeño peppers also saw a dramatic sales increase, up 71% from the previous week. Avocados and limes, essential to most any guacamole recipe, increased 58% and 30%, respectively. And sales of refried beans see 38% boost as the 5th of May approaches.
When it comes to name brands, Tostitos dominates shopping lists for this holiday, leading category sales for tortilla chips, queso dip, and salsa. Old El Paso reigns in refried beans, and Mission takes the Taco and Tortilla category.
Cinco de Mayo commemorates the Mexican Army's victory over French forces at the Battle of Puebla on May 5, 1862.
About MyWebGrocer:
MyWebGrocer drives digital connections between consumers, grocery retailers, and Consumer Packaged Goods brands. MWG creates and manages digital solutions for clients including websites, digital media, online circulars, email marketing initiatives, mobile applications, social media strategies, and customer acquisition programs. MyWebGrocer works with more than 100 retailers nationally, representing more than 5,000 stores, and operates the largest grocery ad platform in the nation. The data reflected above was collected, in aggregate, from users of MyWebGrocer's digital grocery platform between 4/21-5/4/2009.
For Information Contact:
Alison Kosakowski, MyWebGrocer
akosakowski(at)mywebgrocer(dot)com
802.825.1312
###