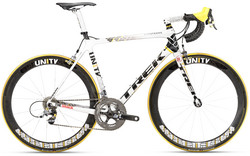 My return to cycling has been about spreading awareness of the global cancer burden. 'I Ride For' is another way to spread the word and raise awareness of the personal nature of battling this terrible disease." - Lance Armstrong
Waterloo, WI (PRWEB) May 3, 2010
This summer, Trek Bicycle, the world leader in bicycle technology and innovation, and LIVESTRONG, the organization founded by cancer survivor and champion cyclist Lance Armstrong to inspire and empower people affected by cancer, are teaming up to fight cancer on a global scale. This time, it's personal.
Throughout 2010, Armstrong and his Team RadioShack colleagues will be riding with the names of cancer survivors emblazoned on their team-issued Trek Madone bicycles as part of the "I Ride For" campaign. The campaign is designed to raise public awareness of the very personal nature of the fight against cancer and pay tribute to these everyday heroes.
The same customizable "I Ride For" decals that appear on Team RadioShack's bikes throughout competition in 2010 will be made available to non-professional riders as well, making it easy for anyone to support the cancer survivors in their life. Customizable stickers ($10 USD), waterbottles ($15 USD), and posters ($20 USD) will be made available at http://www.trekbikes.com/unity. Proceeds from the sale of all "I Ride For" items will benefit LIVESTRONG's anti-cancer initiatives.
I RIDE FOR LIVESTRONG is a virtual race running in tandem with the 2010 Tour of California that will live online at http://www.livestrongaction.org/rideforlivestrong. Supporters can create their own bike, and encourage their friends to "cheer" them on by joining the global fight against cancer. The virtual riders who collect the most online support will be featured on a Team RadioShack riders' race rig in competition. The game will launch on May 12 just ahead of the Tour of California and conclude when the race ends on May 23. All names entered will be eligible, but not guaranteed, to appear on Team RadioShack bikes throughout the 2010 season, including the Tour de France.
"My return to cycling has been about spreading awareness of the global cancer burden," said Armstrong. "'I Ride For' is another way to spread the word and raise awareness of the personal nature of battling this terrible disease. We all know someone impacted by cancer, and we will be riding for those individuals. Who will you ride for?"
In addition to "I Ride For" decals, Armstrong will be racing special UNITY-themed Trek Madone and Speed Concept bikes throughout the 2010 race season. Bike enthusiasts will have the opportunity to purchase UNITY-themed Trek Madones through Project One, Trek's custom bike program. For each UNITY-themed Project One bicycle sold, Trek will donate $500 to aid LIVESTRONG in the fight against cancer.
This summer, tell the world who you ride for. Visit http://www.trekbikes.com/unity.
About Trek Bicycle:
Trek Bicycle Corporation is a global leader in the design and manufacture of bicycles and bicycling related products and accessories. From Tour de France-winning road bikes to tricycles designed to introduce the next generation of riders to the possibilities of pedal-power, Trek has a bike for nearly every rider. Trek believes the bicycle can be a simple solution to many of the world's most complex problems, including obesity, traffic congestion, and climate change, and is committed to breaking down the barriers that prevent people from using bicycles more often for daily transportation, recreation, and inspiration. For more information about Trek, visit http://www.trekbikes.com.
###