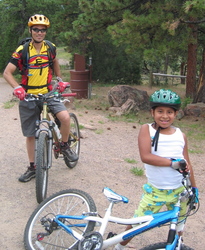 We look forward to using funding from the race to potentially expand our reach and serve more underserved youth in Metro Denver and Boulder areas.
Denver, Colo. (Vocus) May 1, 2010
Trips for Kids Denver/Boulder (TFKD/B), a non-profit providing mountain biking and environmental awareness programs to underserved youth, has been named a beneficiary of The 1st Annual Bailey Hundo, a 100 mile mountain bike race through Pike National Forest, starting and ending in the town of Bailey, Colo. on June 19th. Additional race information may be found at http://www.tripsforkidsdenver.org/bailey-hundo/.
150 hand-picked racers will join the event sponsors, four cycling Colorado State Senators -- Senator Chris Romer (District 32), Senator Mike Kopp (District 22), Senator Mark Scheffel (District 4), and Senator Greg Brophy (District 1) – who conceived of the event to raise funds for youth cycling programs and to fund trail improvement and building projects surrounding Bailey.
"The Senators' HUNDO at Bailey supports two great causes-- getting all kids back on bikes and increasing tourism jobs for the Colorado's economy. Even in the first year we will have riders from several states and at least one international rider," said Colorado State Senator and founder of the Bailey HUNDO Chris Romer. "There will be fierce competition between me and my Republican colleagues, but all for a good cause. Democrats rule and Republicans will be eating my dust."
In addition to assisting Trips For Kids Denver/Boulder, the Bailey HUNDO mountain bike race will also benefit the following:

Colorado High School Cycling League, a non-profit that is promoting mountain biking in high schools across the state.
Advance Colorado, a non-profit founded by Senator Chris Romer, which will sponsor trail-building in the Bailey area.
TFKD/B will use contributions from the race to achieve the organization's goal of expanding its core youth mountain biking program to annually reach over 1,000 underserved children. TFKD/B currently involves about 700 youth participants on 100 day-long rides each year, giving children who normally would not have the opportunity to experience this type of activity the health and confidence benefits of mountain biking.
"We are very grateful for the opportunity to be involved in this event that is so well aligned with our mission and that our State Senator's recognized the importance of helping Colorado youth enjoy the outdoors," said Andrew Goodwillie, Executive Director of TFKD/B. "We look forward to using funding from the race to potentially expand our reach and serve more underserved youth in Metro Denver and Boulder areas."
About Trips For Kids Denver/Boulder
Trips for Kids Denver/Boulder (TFKD/B) is a non-profit organization that provides cycling based programs that build health and boost the confidence of underserved urban youth. Participants are exposed to a positive, fun outdoor experience, while being taught valuable lessons about healthy life-choices, environmental awareness and creating positive self esteem. By partnering with numerous youth agencies in Metro Denver and Boulder, TFKD/B strives to make an unquestionable difference in the lives of children by opening their minds to new possibilities beyond the scope of their current setting. TFKD/B is organized under Section 501(c) (3) of the Internal Revenue Code and is operated exclusively for charitable and educational purposes. Contributions are 100% tax deductible. For additional information, visit http://www.tripsforkidsdenver.org .
Contact:
Andrew Goodwillie
Executive Director, Trips for Kids Denver/Boulder
P: 303-725-6723, Email: agood(at)tripsforkidsdenver(dot)org
Sydnee Fox
SNG PR, for Trips for Kids Denver/Boulder
P: 801-208-1100, Email: sydnee.fox(at)sng(dot)com
###