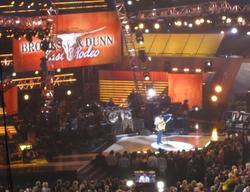 Dramatic digitally printed wide format backdrops were produced for the final concert tour dubbed Last Rodeo, of country music notables, Brooks & Dunn.
Compton, CA (PRWEB) May 3, 2010
Sew What? Inc, the Theatrical Drapery Manufacturer of concert backdrops and stage drapes, was awarded the contract to provide a digitally printed wide format backdrop for country music notables, Brooks & Dunn. The dramatic looking backdrops which are now being viewed at their concerts were all produced in-house on a 120" Vutek printer on a flexible polyester based fabric.
Brooks & Dunn are an American country music duo, consisting of Kix Brooks and Ronnie Dunn. They are one of the most successful duos from any genre, having sold more albums than all others in the Nielsen/SoundScan era. Brooks & Dunn won the Entertainer of the Year award in 1996. This final tour is aptly named Last Rodeo, as it is billed as the last concert tour for the duo.
Graphic Artist Mike Swinford and Tour Manager Randy "Baja" Fletcher really know their show. Not only did they have the pulse on the bands needs, in terms of concert drapes for the current tour, but they also have many years of experience in touring productions. Mike Swinford worked diligently on the custom designed cowgirl elements which were created digitally and delivered to Sew What? Inc as finished, print ready files full of vibrant color.
Adam Duckett, co-owner of Sew What? Inc immediately took to the task of pulling the files into specific software which translates the graphic across platform thru to the printer. Careful color profiling and pattern matching are very important when reproducing client provided artwork. "The printing process is extremely detailed and not for the impatient," noted Adam Duckett. "Our staff printer Lyle is diligent, and takes time to really watch the output throughout the entire pre-press, print and production process."
While the printing element is of course the most obvious to the eye and the audience – there are very detailed sewing methods employed to invisibly stitch the printed image together into a single manageable stage drape or custom concert backdrop for a client. "Factors, including durability, flame retardancy and of course beauty all need to be balanced," commented Lynda Vaughn, General Manager. "Looking good but not lasting the tour is not what our clients want – and likewise durability with no design element won't work either. Fortunately our sales staff and owners have experience in touring and concert productions. This means that they are able to make really great recommendations. Megan and Adam both understand the clients' needs first hand."
The popularity of digital printing is on the upswing. It seems no matter where you look these days, you will likely see digitally printed fabric, digital printed theatrical backdrops and wide-format digital billboards. That's because any graphics created for printing on paper can also be printed on fabric. With a variety of substrates to choose from, digital printing enables you to magnify photo quality images into stunning theatrical and scenic digital backdrops. The digital print process onto fabric permits customers to control the design and printing process from remote locations and eliminates the expense and time of traditional scenic backdrop painting. The image prints directly from easily stored, transmitted, and transported computer files, allows affordable proofing and sampling, and permits customization and personalization.
More on SewWhat? Inc:
Sew What? Inc., located in Rancho Dominguez, CA, is well-known for outstanding theater backdrops used in major rock concerts, top fashion shows and other artistic staged venues. The company also exclusively produces concert draperies for Drapery Rental Provider Rent What? Inc. The company has received numerous awards for business and innovation, including the Dell/NFIB Small Business Excellence Award, as well as PC Magazine's SMB 20 Award for technological innovation for small and medium-sized businesses. It was also featured on the 1000th cover of Rolling Stone. You reach Sew What? Inc. online at http://www.sewwhatinc.com or by calling 310 639-6000.
# # #