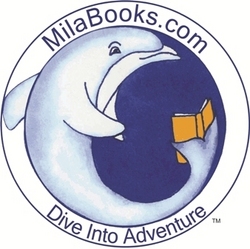 "MilaBooks new logo exhibits 'perfect form!' The medium is the message - A dolphin, happily reading Paul's daring, warm-spirited adventure tales of diver/ sea-dweller interaction is irresistible . . . spot-on!" Playwright Karen Sunde (www.karensunde.com)
Carle Place, NY (PRWEB) May 4, 2010
Long Island-based author and underwater photographer, Paul J. Mila, owner of http://www.milabooks.com, has released his company's new logo to promote the MilaBooks.com brand. Mila is also a member of the Long Island Chapter of the Sierra Club conservationist organization http://www.sierraclub.org , and is an active supporter of the Sea Shepherd Conservation Society http://www.seashepherd.org .
The trademarked logo portrays a dolphin reading a book held in its tail flukes, encircling a blue globe. The logo fits the theme of Mila's stories, which are fictional, dive-related, ocean-going adventures. In addition, Mila is co-authoring a non-fiction book, working title BUBBLES UP!, with writer Judith Hemenway, author of THE UNIVERSE NEXT DOOR.
The logo was designed by artist Gail Sanderson, based on input provided by Mila. In a recent interview, Mila said, "Ms. Sanderson took my original concepts and improved them. Incorporating the globe and having the dolphin hold a book with its tail were Ms. Sanderson's ideas. Besides designing a very attractive logo to promote MilaBooks.com, her creativity enabled me to accomplish another important goal: to remind readers that our blue planet is a lifeboat whirling through space, and we are the stewards of her finite resources."
Web designer Terry Gallogly, owner of http://www.minimaxcorp.com and designer of Mila's website, http://www.milabooks.com , applied the final digital touches to the logo, and incorporated it into his website. The logo's tag line, Dive Into Adventure, was the winning entry submitted in a recent contest by a reader of The Sea-gram, Mila's internationally acclaimed, monthly online news letter. Archived issues can be viewed at http://www.sea-gram.com .
Mila left the corporate sector in 2002, trading in his business suit for a wet-suit. He devotes his time to writing, scuba diving around the world, underwater photography and speaking to groups about the growing need for ocean conservation. Mila's books and underwater photographs are featured on numerous diving websites. Mila followed up three successful adventure novels, DANGEROUS WATERS, WHALES' ANGELS, and FIREWORKS, with BASIC UNDERWATER PHOTOGRAPHY, his first non-fiction venture. In addition, he began publishing his monthly online newsletter, The Sea-gram, in August 2009.
For more information, visit http://www.milabooks.com
EDITORS: For review copies or interview requests, contact:
MILABOOKS.COM - Promotional Services Department
Tel: 516-334-5039
Fax: 516-578-1689 - contact via phone or email prior to transmitting request
Email: paul (at) paulmila (dot) com (When requesting a review copy, please provide a street address)
###