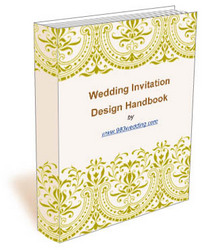 To design unique wedding Invitations, you will need to have a solid design concept before you actually start.
Washington, DC (PRWEB) May 2, 2010
An innovative company, 983 Wedding, has been providing personalized wedding invitations online since 2006. They are now ramping up their service with an attractive new ebook, Wedding Invitation Design Handbook. While the company can set the correct tone for any wedding with their range of papers, colors, and designs, the Handbook shows engaged couples how to create memorable personalized wedding invitation cards. Even more to the point, the Handbook guides the bride and groom away from the standard blunder of those planning a wedding.
As the chief designer of 983 Wedding, Jerry Leung, say, "In my career as a wedding invitation designer, one issue I find it quite common to the couples is that they do not have a main idea before they actually start." This is the most crucial decision to be made once the biggest decision - to get married - is made. The colors, date, location, flowers, music and reception should all flow out of the main concept of the wedding. "Concept generation should be considered one of the most essential parts in the process of design. And you should spend time on it when you design your own wedding invitations."
In the process of planning the wedding, developing the personalized wedding invitation cards allows the couple to work out many of the details of the wedding as they establish the theme and design of the invitations. The Wedding Invitation Design Handbook takes the offerings of the 983 Wedding one step farther. The Handbook unfolds three concepts of invitation card design. The concepts are unusual, creative, and elegant. Best of all they show ways that each couple can create invitations that are tailored to their own family culture, history, and personality. The author states, "There is no such a thing as a universal formula when you are designing the wedding invitations." However, couples will still be able to create their own unique wedding invitations with the suggestions from the Handbook.
983 Wedding can create delicate, layered, classy invitations for any wedding. The Wedding Invitation Design Handbook takes their service one step closer to any couple's heart by providing the necessary information for self-expression along with guidance towards the need for a strong wedding concept. The invitation is the first public appearance of the wedding couple and that appearance is judged by the look and design of the invitation.
For more information, contact:
http://www.983wedding.com/
###