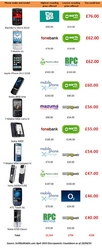 A recent consumer research study conducted by SellMyMobile.com found that there are as many as 68 million unwanted old mobile devices lying around UK households.
(PRWeb UK) May 2, 2010
The average value of an old mobile phone has risen to a new high of £65, according to the latest figures from mobile phone recycling price comparison site SellMyMobile.com's Recycling Value Countdown for April 2010.
This month's update has also revealed that the Nokia 5800 XpressMusic is now the most popular recycled handset in the country, with a potential value of £87.
April's Countdown from SellMyMobile.com has revealed that owners of the top 10 mobiles with the biggest recycling discrepancies could be losing out on an extra £558 for their old devices by not shopping around. HTC remained the most popular handset manufacturer featured, with four devices in the top 10. The biggest discrepancies for consumers looking to sell their mobiles in April 2010 were:
Phone make and model - Highest recycling price offered - Lowest recycling price offered - You could lose
BlackBerry Storm 9520 - £90.00 / £14.00 = £76.00
T-Mobile G1 - £76.00 / £14.00 = £62.00
Apple iPhone 3G S 32GB - £302.00 / £240.00 = £62.00
Nokia 8800 Arte - £150.00 / £90.00 = £60.00
T-Mobile MDA Vario IV - £90.00 / £34.00 = £56.00
Nokia N900 - £195.00 / £140.00 = £55.00
T-Mobile MDA Compact IV - £74.00 / £20.00 = £54.00
Vertu SIGNATURE - £197.00 / £150.00 = £47.00
HTC Touch 3G - £70.00 / £24.00 = £46.00
Nokia 6700 Classic - £70.00 / £30.00 = £40.00
Total - £1,314 / £756 = £558
Source: SellMyMobile.com April 2010 Discrepancies Countdown as of 28/04/10
Keir McConomy, MD of SellMyMobile.com, commented, "A recent consumer research study conducted by SellMyMobile.com found that there are as many as 68 million unwanted old mobile devices lying around UK households. With the average value of phones sold through SellMyMobile.com increasing to £65 this month, there's no question that we are sitting on a potential treasure trove of billions of pounds worth of old phones that Brits could cash in. Unfortunately, it's not quite enough to impact the national deficit, but it would certainly make for a welcome addition to all party leaders looking to keep proposed spending cuts to a minimum ahead of next week's General Election!"
###