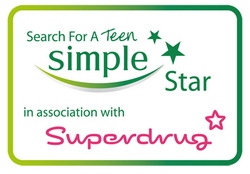 The 'Search For A Simple Star' is a really fantastic and unique opportunity. The successful you person become the teen voice of Simple, helping to educate other young people on the best ways to maintain healthy skin by working on projects to shape future direction of the brand
(PRWeb UK) May 4, 2010
Entry to the 'Search For A Simple Star' competition is open to all 12 to 17 year olds. The sucessful candidate will be rewarded with an exciting package to include a 12 month role as the 'Official Simple video blogger', an honorary seat on the Simple Junior Board² representing the views of Simple's younger customers, and a chance to be involved in product development and brand marketing. And, as if this isn't enough, there will also be an opportunity to experience a makeover, take part in a photo shoot, appear in media campaigns, and receive a year's supply of Simple products.
Simple Group Marketing Director, Alex Pike, says "The 'Search For A Simple Star' is a really fantastic and unique opportunity. The successful you person become the teen voice of Simple, helping to educate other young people on the best ways to maintain healthy skin by working on projects to shape future direction of the brand".
This role will be fully supported by a senior team of Simple experts and could prove an important stepping stone to a future career.
Just visit http://www.simple.co.uk/Simple-Star/ and follow the link to 'Search For A Simple Star' to find out more. Closing date for entries is 3rd September 2010.
For full Terms & Conditions please visit http://www.simple.co.uk/Simple-Star/
²Simple Junior Board – Twelve x 12 to 17yr old girls who form the Simple Junior Board of Skincare Advisors to help guide us on everything from new product development, to packaging and communication and wider skincare issues affecting young people.
Notes to editors:-
How to enter
Applicants will enter via the Simple website http://www.simple.co.uk/Simple-Star/
Applicants will be required to answer some questions and then to upload a photo or short video. Entries from people aged under 16yrs will need parental consent. Applicants will be encouraged to create a campaign to recruit public votes through the use of social media.
Entry opens on 4th May and closes on 3rd September 2010. The final 10 will be put judged by a panel, including the current Junior Board members. The winner will be announced by 20th September 2010.
Over 18's Search For A Simple Star
During the same time frame, Simole are also looking for an adult Simple Star who will have the opportunity to secure an important role within the company and to win a salaried employment package worth up to £50K! Please contact Simple if you require more information on the adult competition.
Simple Philosophy
Simple philosophy is that natural beauty comes from goodness. Simple never use harsh chemicals colours or perfumes and settle for only the purest possible ingredients. Trust the natural goodness in all products on even the most sensitive skin.
# # #