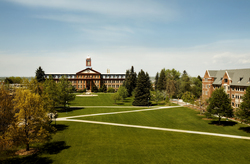 Denver, CO (PRWEB) May 3, 2010
Regis University is pleased to announce the launch of their career focused web site that will provide potential students the resources they need to learn more about their desired career path.
Regis currently offers both a Bachelor of Arts and a Master of Science in Criminology. The programs are designed for professionals in law enforcement as well as other fields such as social services and private security who wish to develop a more comprehensive understanding of criminal behavior, to enhance their careers, or to transition into other roles. The advanced curriculum of the master's program mirrors coursework at the FBI National Academy.
Regis's Master of Science in Information Assurance for professionals interested in learning to design and implement computer systems that keep data and operations secure from the constant threats of attacks and hacking. Modeled on the guidelines provided by the National Security Agency, the curriculum incorporates the most up-to-date technology and theories available.
"With this new site, we hope to reach a new audience for our exciting programs and increase recognition of the respected education that Regis offers," said Bill Husson, Vice President for Professional Studies and Strategic Alliances. "Regis has long been a pioneer in adult higher education, and we look forward to bringing more career-oriented programs online to meet the needs of working professionals."
For more information on these programs, visit http://www.RegisDegrees.com.
About Regis University
Since 1877, Regis University, Colorado's only Jesuit University, has met the needs of students through innovative classroom-based and online programs designed to prepare learners to become leaders in the service of others. Regis University's commitment to the individual student is fostered through the heritage of our values-centered Jesuit education. Today, more than 16,000 students call Regis University home. This Denver, Colorado-based university offers classes in a campus-based setting as well as online programs at the undergraduate, graduate and doctorate levels.
###