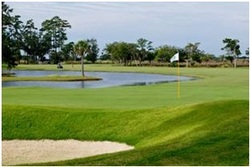 St. Simons Island, GA (PRWEB) May 3, 2010 -
A new golf masterpiece at a historic Georgia golf resort has achieved astounding success in its first three weeks using cutting edge technology. The recently restored and renamed King and Prince Golf Course, Home of the Hampton Club, is now viewable online with a 3-D graphic that transports viewers to each of 18 holes via a hole-by-hole flyover.
According to Bud St. Pierre, Director of Sales & Marketing for The King and Prince Beach & Golf Resort, "To golfers, it doesn't get better than this. It's an in-depth virtual tour where one can see bridges, bunkers, the shape of ponds, sprawling live oaks, expansive marsh views, lagoons and towering pines. It includes a full course map, score card and vibrant photos of the extraordinary beauty of one of coastal Georgia's great courses. We see the future of golf course marketing heading in the same direction as the popularity of the video game industry. The flyover takes viewers to our golf course within seconds, giving them an amazing experience." http://www.kingandprince.com/golf.php
Developed by Best Approach, CourseFlight® is a 3-D animated flyover that provides viewers with a true feel for the course. Gary Mannies, Vice President of Sales states, "The King and Prince Golf Course has taken advantage of the web-based flyovers to attract golfers to their website. By expanding the basic graphics package Best Approach developed for the King and Prince yardage guide, the course now has powerful marketing tools such as CourseFlight® and MobileYardageGPS, an iPhone app that used the 3-D yardage book graphics in a digital yardage guide. As the world's largest producer of yardage guides, Best Approach was fortunate to have the resources needed to develop these new marketing tools."
http://www.bestapproach.com/flyovers
The King and Prince Resort is a 195 room ocean front Georgia resort on St Simons Island, Georgia. Owned and operated by The King and Prince Beach & Golf Resort, the golf course is renowned for its ancient forests, vast salt marshes, dramatic island holes, PGA instruction and comfortable clubhouse. Originally designed by architect Joe Lee, the Course is renowned for a group of 4 spectacular signature holes gently carved from small coastal marsh 'islands' and accessed by 800-feet of elevated cart bridges. This bold and brilliant design marks the highlight of the back nine, while Lee's genius extends through the entire 18-hole, Par 72 course. It bends around towering oaks, along large areas of salt marshes and across lakes and lagoons.
According to Rick Mattox, Golf Club Manager, "Our long awaited golf course renovation now features Mini Verde greens, Tif sport collars, Celebration tees, roughs and fairways - and our traps are wrapped in Emerald Zoysia. We're the only course in our region with these types of grass and our golfers are amazed at the fantastic course transformation."
The King and Prince Beach & Golf Resort
201 Arnold Road
St. Simons Island, Georgia 31522
http://www.kingandprince.com
For interviews and photos, contact:
Leigh Cort Publicity
# # #