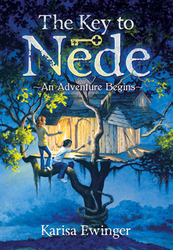 This is a journey by invitation only, and once you accept you can't turn back. The future of mankind depends on you!
Destin, Florida (PRWEB) May 10, 2010
The Key to Nede is a thrilling new kids novel that holds the key to self-discovery. Debut author Karisa Ewinger has applied her lifelong gift for storytelling to an engaging fantasy saga that encourages children to embrace their individuality.
"I home school both my kids and that means they have to read a lot. That gives me plenty of time to write and a very good audience for me to see how my stories will be received," said Karisa Ewinger.
The Key to Nede is a breathtaking, non-stop, supernatural adventure. In a land full of danger and treachery, the reader travels alongside Billy Owen as he battles the evil Prince Goth, a memorable, classic villain out to destroy the earth and enslave humanity. Readers will be inspired to discover greatness as well as the mystery hidden deep within them, which transcends the mediocre, the mundane, tragedy and pain, and the ups and downs of life.
"There is a secret that lies in the heart of every girl and boy, and once its powers are unlocked, he or she has the potential to shape the world through the legacies they create," Ewinger said. "This is a journey by invitation only, and once you accept you can't turn back. The future of mankind depends on you!"
Ewinger was inspired by boys living at Mercy's Door, a non-profit home for 9-17 year old boys who, for various unfortunate reasons, have been removed from their parents' homes by the state. With a loving home and encouragement, the boys at Mercy's Door learn to transcend their pain and self-doubt to reclaim their destinies as full members of society.
Both adults and children will easily relate to the characters; their adventures, their triumphs and their failures. The Key to Nede is fresh and original, but deals with universal themes such as the value of friendship, perseverance in the face of adversity, uniqueness, and individuality. Readers will glean a very valuable lesson – often, things are not exactly as they seem.
The Key to Nede is aimed at readers aged 11-14 and is available at the book's web site (http://www.keytonede.com ), Amazon.com, Barnes & Noble and Books a Million. Keep up with the latest through the Twitter feed (@thekeytonede) or through the Facebook page. Kids visiting KeytoNede.com can join the fan club, listen to audio clips and participate in the burgeoning social network to make new friends, blog and share their adventures and accomplishments.
About Karisa Ewinger
Karisa Ewinger began storytelling at 4 years old when she began weaving animated tales to an enrapt family audience. In middle school she wrote poems and in high school moved on to short stories and plays for her high school theatre class. She is a member of the National Association of Professional Women, and is nominated for the 2010 NAPW woman of the year. Karisa is a wife and home schooling mother of two who resides in the Florida panhandle. When she is not writing or playing at the beach, she enjoys traveling, reading, and dining with friends. This is her first novel, and the first book in The Key to Nede series.
Karisa Ewinger
423-593-1945
karisa(at)nedepublications(dot)com
###