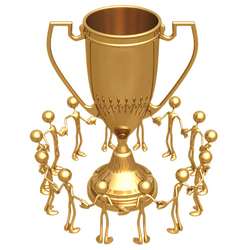 Truly outstanding architecture work is worthy of international recognition. Because every CEO is looking for architect/s to create business differentiation.
Highland Park, New Jersey (PRWEB) May 10, 2010
On behalf of our team of Judges and Management Team, iCMG is happy to announce setting up a global Enterprise & IT Architecture Excellence Award competition!
In addition, we are also happy to institute award associated with the legendary John Zachman (inventor of enterprise architecture). Starting this year, "Zachman award for Enterprise Architecture" will be awarded every year along with other architecture awards.
John Zachman, creator of enterprise architecture said "This is a great stride forward for enterprise architects with iCMG bringing international recognition for their valuable contribution to business performance." He added "It is an honour to have the major award in my name. I look forward to reviewing the entries."
These international awards will be conferred each year on architects and organization for significant achievements in the field of Enterprise and IT Architecture. This year's award jury is headed by Steve Towers (founder of BP Group). The award categories include noteworthy work in the area of Enterprise Architecture, SOA, ITSM, Business Intelligence, BPM, Open Source, Business Innovation & Transformation etc. The awards will be presented at a ceremony held during "iCMG Architecture World" conference.
The idea is to honour architects & enterprises whose work demonstrates a combination of talent, vision & workmanship, which are creating successful and enduring systems & enterprises. Also, this will be a great opportunity to highlight various interesting and remarkable works being done across the world and bring them to the notice of the global audience.
"Whether you are a small firm, a government agency or a Fortune 500 company, we invite you to participate. Truly outstanding architecture work is worthy of international recognition. Because every CEO is looking for architect/s to create business differentiation," says Sunil Dutt Jha, Practicing Architect & CEO of iCMG, a full service Enterprise & IT Architecture Firm supporting services over 23 countries.
One of the most intriguing things about contests – both for the architects and for the judges – is that different architecture frameworks, architecture styles and problems, etc. are in competition with each other. In order to address this problem, and to encourage the development of a wide range of architecting talent, the iCMG Awards competition reward excellence in a variety of formats and categories.
The iCMG Awards competition is judged entirely by working professionals in the industry, all of whom have years of experience in managing complex IT systems & enterprises. iCMG has set up an international jury which covers the geography including Asia, Europe, US (North America), Australia. Each of the chief jury members have demonstrated great balance between vision & practice in their workspace. Whether you are a small organization, a government office or a Fortune 500 corporation all entries will go through the same judging process and are eligible to win esteemed award.
The world's most prestigious architecture award is open for nominations. Please note that last day for nomination is 7th June.
This is the first year, and the stakes are higher. This year we will be presenting awards in total of 19 categories (including iCMG Hall of Fame). We look forward to participation from the architects, organizations and tool vendors across the globe, in this prestigious award competition.
# # #