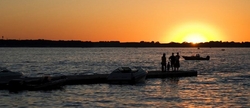 Palo Alto, CA (Vocus) May 3, 2010
As wallets shrink and stress grows, vacations are the farthest thing from reality, but the closest thing to mind. Discover Okoboji, a collection of three quality Iowa hotels in Okoboji and Spirit Lake, provides discerning guests the opportunity to travel without breaking the bank. By launching its new interactive 30-Day Free Room Giveaway Sweepstakes, Discover Okoboji plans to wash away winter blues and grant daily winners a rejuvenating start to summer.
Escaping the everyday pressures of life should rank high on everyone's busy agenda, and Discover Okoboji helps make that possible. The sweepstakes allows future guests to find whatever activity they need at the Iowan resort community to put their mind at ease from water sports to shopping to taking in a show. The Lake Okoboji area has it all and more.
Participants can enter daily every day from Monday, May 3, 2010 to Tuesday June 1, 2010 to win a free night in one of the three hotels nestled among Okoboji's five glacier-carved lakes.
The Discover Okoboji Sweepstakes Package includes:
-A free room at one of three hotels in Okoboji/Spirit Lake: AmericInn, Super 8, Ramada
-Perfectly situated accommodations to enjoy summer outdoor activities
-The opportunity to experience the best of Iowa and its picturesque lake community
The 30-Day Free Room Giveaway Sweepstakes is free to enter and awards a bonus prize for spreading the word. Participants who tell others about the sweepstakes via the website are automatically entered to win a $250 Gift Card awarded to the entrant who forwards the sweepstakes to the most friends. To win one of thirty free nights at the Discover Okoboji hotels, please visit http://www.discoverokoboji.com/sweepstakes.
Packing your bags and relaxing in a scenic setting will melt anxiety away leaving only a fresh outlook for summer—and a tan that might make others jealous.
About Discover Okoboji:
Okoboji is a truly unique resort community in Northwest Iowa that includes three excellent hotels: AmericInn of Okoboji, Super 8 in Spirit Lake/Okoboji, and Ramada of Spirit Lake/Okoboji. Surrounded by the Great Lakes, the town of Okoboji offers great opportunities for entertainment such as summer water sports active water sports including boating, sailing, water-skiing, parasailing, canoeing, kayaking, and personal watercraft. The area also offers amusement parks, golf, go-carts, trails, live music and theater, year round festivals, art galleries, music, and a wide array of shops and restaurants. Discover the secrets Okoboji has to offer. For more information, please click here to visit our website.
# # #