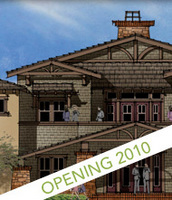 ...can't wait to see the finished makeover.
Morgan Hill, CA (PRWEB) May 2, 2010
Renew Refresh Redecorate, Win a designer makeover! Westmont of Morgan Hill, a leader in full service retirement and assisted living, has partnered with Klang & Associates Interior Design to offer a new resident an opportunity to Live Your Way. Imagine all new furnishings that fit your needs and lifestyle here at Westmont of Morgan Hill. Simply reserve your apartment now and move in within the first 30 days of the opening to be included in the exclusive Founder's Club and a have a chance to win the Klang & Associates designer makeover.
Westmont's Live Your Way Wellness Program considers the whole person with its six dimensional wellness model: Physical, Emotional, Purposeful, Social, Spiritual, and Intellectual. Cathey Eskandari the Executive Director of Westmont Morgan Hill says "We are excited to be partnering with Klang and Associates for this offer and can't wait to see the finished makeover."
Founder's Club Membership-Westmont of Morgan Hill

Community fee waived (savings of up to $5,400)
Personalized Founder's Club nameplate
Club Member's name included on the Founder's Club plaque displayed in the Community
Founder's Club embroidered blanket
Founder's Club appreciation dinner
Special recognition and seating at the VIP Celebration
Westmont of Morgan Hill offers an active lifestyle with lots of choices for residents. The key to the retirement community's success is its caring and friendly team members. Call 408-779-8490 today for more information, to be a part of Westmont of Morgan Hill, and for a chance to win a designer makeover.
Westmont of Morgan Hill Senior Living is located at 1160 Cochrane Rd, Morgan Hill, CA 95037. Phone: 408-779-8490 and Email: dosmorganhill(at)westmontliving(dot)com Website: http://www.westmontliving.com
###