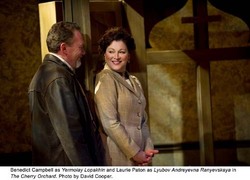 (PRWEB) May 3, 2010
Niagara-on-the-Lake, Ontario A new version of The Cherry Orchard by Tom Murphy, one of Ireland's leading contemporary playwrights, is now in previews at the Shaw Festival's Court House Theatre in Niagara-on-the-Lake. Directed by Dublin director Jason Byrne, this new adaptation makes its Canadian premiere this season at the Shaw Festival.
Against the backdrop of impending revolution and social change, an aristocratic family's way of life is slowly disappearing, and with it, their beloved cherry orchard. On the verge of financial collapse, a decision must be made whether to sell their land to make way for holiday cottages or remain in blissful denial of the unstoppable march of progress.
The cast of The Cherry Orchard includes Laurie Paton as Lyubov Andreyevna Ranyevskaya, Jim Mezon as Leonid Gayev and Benedict Campbell as Yermolay Lopakhin with Neil Barclay, Al Kozlik, Julie Martell, Gord Rand, Severn Thompson, Mark Uhre and Robin Evan Willis.
Considered a new version of The Cherry Orchard, rather than a new translation, the Tom Murphy adaptation premiered at the Abbey Theatre, Dublin, on February 17, 2004, and was directed by Patrick Mason. An adaptation/translation by Trevor Griffith was previously produced at the Shaw Festival in Niagara-on-the-Lake, Canada in 1980.
The Cherry Orchard is designed by Peter Hartwell, with lighting design by Lighting Design Director Kevin Lamotte. The stage management team includes Stage Manager Beatrice Campbell and Assistant Stage Manager Annie McWhinnie.
The Cherry Orchard begins preview performances on Thursday, April 22; opens Thursday, May 27; and plays in repertory until Saturday, October 2. During the preview performance period patrons can take advantage of special rates on tickets to The Cherry Orchard as well as other Shaw Festival performances.
The 2010 Season at the popular Niagara-on-the-Lake attraction also includes Harvey, An Ideal Husband, The Women, The Doctor's Dilemma, John Bull's Other Island, Age of Arousal, One Touch of Venus, Half and Hour and Serious Money.
Book by calling 1-800-511-SHAW (7429) or locally 905-468-2172 or online at http://www.shawfest.com.
About the Shaw Festival Theatre
In the spirit of George Bernard Shaw, the Shaw Festival provokes the mind and stirs the soul through a theatre experience so compelling that, year after year, ever-broadening groups of artists, audiences and supporters are drawn to our work in Niagara-on-the-Lake and beyond.
# # #