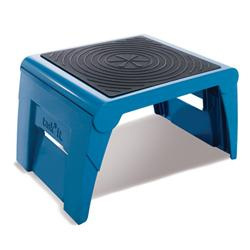 Mc Elhattan, PA (Vocus) May 2, 2010
Brodart Supplies & Furnishings, based in McElhattan, PA, adds a new flip-open stool with a 300 lb. weight capacity: the Cramer 1Up™ Folding Step Stool.
Flip it open to reach those books on the highest shelf; flip it closed for convenient storage in the close or behind your desk. This newest addition to Cramer stools, including the famous Kik-Step® Stool, features their traditional non-skid rubber tread for safe and sure footing. High-density plastic construction makes this stool lightweight, yet sturdy enough to hold up to 300 lbs. Add to this the Cramer 10-year warranty, and you have a dependable product with easy flip-open operation when you need it.
Take a closer look at Brodart's Cramer 1Up Folding Step Stool.
About Brodart Co.
Since 1939, Schools and Libraries alike have turned to Brodart Supplies & Furnishings for everything to keep their libraries running smoothly. From book covers and book supports to kids wall murals, Brodart Supplies & Furnishings is a one stop shop for all your library supplies. From humble beginnings, Brodart has grown to become an international company, serving libraries from the Northwest Territories to the Pacific Rim, with facilities in the United States and Canada. Brodart truly has evolved into a full-service library supply company. For additional information about Brodart Supplies & Furnishings, please visit shopbrodart.com or brodart.ca for our Canadian users, or call 1.888.820.4377 in the United States or 1.800.265.8470 from Canada.
###