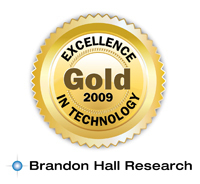 These outstanding tools and systems propel the learning profession forward
Savannah, GA (PRWEB) May 3, 2010
OnPoint Digital, Inc., a leading mobile and online learning solutions provider, won a coveted Brandon Hall gold award for technology excellence in the "Best Advance in Technology for Mobile-Learning Authoring" category. 
OnPoint Digital's win was announced on Thursday, April 29. The winners are listed at http://www.brandon-hall.com.
OnPoint's winning entry showcased its CellCast® Solution, designed to deliver learning "nuggets" (small pieces of learning content that can be more quickly consumed by a user) and associated tests or surveys to mobile workers. As the use of mobile devices in the workplace continues to explode, organizations are looking for ways to easily and quickly create and deliver content, both learning oriented and business communications-based, to those mobile devices. OnPoint's innovative solution provides organizations more efficient, effective and consistent two-way communications with their mobile workforce via basic cellphones or smartphones. OnPoint's winning entry featured how content authors could easily produce content once for delivery to a broad range of devices including BlackBerry® Wireless Handhelds, Apple iPhones® and iPod® touch media players, Google Android®, Windows Mobile® and Nokia Symbian-based smartphones as well as popular netbooks and tablet computers. 
"We are thrilled to be recognized by Brandon Hall and their esteemed panel of judges for our CellCast Solution," said Katherine Guest, Vice President of Sales & Marketing for OnPoint Digital. "This is an exciting validation of our efforts to provide innovative solutions to our customers and partners in the mobile arena." 
The Brandon Hall Excellence in Learning Technology Awards are presented by Brandon Hall Research, one of the leading research firms in training and development. The Learning Technology Awards program showcases innovations in the products in the marketplace for creating and managing learning, talent, and performance. 
"These outstanding tools and systems propel the learning profession forward," said Brandon Hall, Ph.D., chairman of the Awards program. "These innovative products let customers make learning faster, better, and easier."
The entries were evaluated by independent judges around the world.
About OnPoint Digital, Inc.
OnPoint Digital, Inc. is a mobile and online learning solutions provider dedicated to the development of powerful yet affordably priced online learning and performance management tools for middle market and enterprise customers. 
OnPoint's innovative and award-winning CellCast Solution allows companies to easily create, deliver and track mobile content and assessments directly to users' mobile phones. From feature phones to iPads, the software delivers 1 and 2-way messaging and podcasts to any standard cellphone, plus mobile web content, text and PDF files, videos/podcasts and animated PowerPoint® content to more advanced smartphones and netbooks. All learning content can be accessed "over-the-air" or automatically synced to each learner's preferred mobile platform. 
Perfect for just-in-time training, learning reinforcement, surveys, and marketing updates, OnPoint's CellCast Solution helps organizations leverage their investment in cellphones and monthly plans by better utilizing an employee's time while mobile and by making the knowledge they need available where and when they need it most.
OnPoint also offers a full-featured Learning Management System/Learning Content Management System software suite, enabling the creation and management of rich-media courseware, online assessments, appraisals, skills tracking and detailed reporting, plus numerous optional modules such as integrated document management, eCommerce and localization offerings.
Visit our websites at http://www.onpointdigital.com and http://www.mlearning.com for more information.
About Brandon Hall Research
Brandon Hall, Ph.D. is the CEO of Brandon Hall Research and author of the ground-breaking "Web-Based Training Cookbook." Since 1992, Brandon Hall Research (http://www.brandon-hall.com) has been providing independent research reports and expert advice on using technology in learning. Brandon Hall Research conducts Awards programs each year to recognize the best in innovative learning.
© 2010 OnPoint Digital, Inc. All rights reserved.
The BlackBerry and RIM families of related marks, images and symbols are the exclusive properties and trademarks of Research In Motion Limited.
Apple, the Apple logo, Mac, Mac OS, Macintosh, iPod and iPhone are trademarks of Apple.
Other company and product names may be trademarks of their respective owners.
###