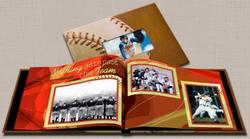 Jostens Photo Books help athletes, coaches and parents create a new tradition of keeping memories, and celebrate the hard work and dedication that all participants put into the season.
Minneapolis, MN (PRWEB) May 3, 2010
As teams drive towards the end of their spring season, Jostens Photo Books TM enable athletes, coaches and parents to capture and share their favorite memories, both on and off the field. Jostens Photo Books' flexible design and personalization options are the perfect way to tell the entire team's story, with the ability to customize the book for each member of the team.
With sports banquets and end-of-season events right around the corner, now is the time to turn the team's images and stories into Jostens Photo Books that everyone can share. Handing out photo books at season-ending events is a fun and affordable way for the whole team to remember the season. Young athletes love seeing their story in print and collecting signatures from their teammates. And because Jostens uses only archival-quality paper and stitched bindings, these hardcover photo books ensure the memories last a lifetime.
"Jostens Photo Books help athletes, coaches and parents create a new tradition of keeping memories, and celebrate the hard work and dedication that all participants put into the season," said Tricia Hamak-Sundeen, director, Photo Books, Jostens. "You don't need to have scrapbooking talents to create a fun and contemporary sports photo book, because we offer countless page designs, fantastic hard covers, and real help from real people just a phone call or email away."
From the first pitch to the last-second goal, Jostens Photo Books allow users to tell the unique story of their team. Plus Jostens' flexible design options provide the opportunity for each member to completely customize their own photo book by personalizing their cover and replacing select images with their individual photos.
Jostens Photo Books, named the "most versatile" photo book Web site by Good Housekeeping magazine, allows users to create their own personalized photo books on Jostens' easy-to-use Web site. Using their digital photos and text, teams or individuals can tell their unique story in a 22 to 60-page book. Plus Jostens' proprietary process makes it easy to keep it simple or take advantage of the tool's flexibility to add custom creative flair. The Jostens Photo Books experience is differentiated from other online photo book solutions with:

Exceptional quality books with sewn bindings and premium archival quality paper
Amazing covers - even create your own
Powerful editing tools to give you the control
A wide variety of professionally designed page themes and styles
The ability to add as many pictures as you want, where you want
Graphic stickers to provide an extra creative touch
Online tools enable group collaboration
Jostens Photo Books are perfect for any sports banquet or event and – starting at just $34.99 – personalized photo books provide lasting value at an affordable price. Plus, now through June 30th, users will receive a $10 discount on any personalized Jostens Photo Book by visiting http://www.jostens.com/photobooks and entering the promo code: SPORTSBOOK.
Beyond sports photo books, Jostens Photo Books offer hundreds of photo book options that help people capture and share life's most important and memorable moments. From graduation to crazy stories with your best friends to celebrating just about any milestone or holiday, Jostens Photo Books help users share life's experiences with stunning hard covers and vivid page designs.
About Jostens
Minneapolis-based Jostens is a provider of products, programs and services that help people tell their stories, celebrate important traditions and recognize achievements. The Company's products include school yearbooks and other memory book products, scholastic products such as class rings and graduation products, and products for athletic champions and their fans. Jostens is a subsidiary of Visant Corporation, a marketing and publishing services enterprise servicing the school affinity, direct marketing, fragrance and cosmetics sampling and educational and trade publishing segments.
###