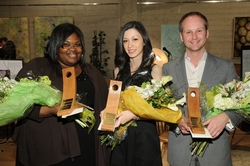 Traditionally, interior designers are not taught to understand furniture construction
Los Angeles, CA (Vocus) May 1, 2010
FIDM/Fashion Institute of Design & Merchandising recently partnered with Thos. Moser and the American Society of Interior Designers (ASID) in the first-ever Thos. Moser Student Design Challenge. Twenty-one Interior Design students in FIDM's Furniture Construction and Design class were asked to design an original companion piece to the iconic Thos. Moser chaise.
"Traditionally, interior designers are not taught to understand furniture construction," says David Moser, Chief Designer at Thos. Moser. "This was a unique opportunity to foster young designers; it is vital that they have a solid understanding of the basics of furniture design and construction. We were happy to be able to offer this challenge to the students at FIDM."
There were three awards given: Paul Templeman-Holmes was the winner of the Moser Design Committee Award; Edith Ponciano was the winner of the ASID's Presidents Award; and Kamilah Gayle was the winner of the People's Choice Award (voted on by those in attendance at the awards reception).
Each winner received a tabletop sculpture in solid cherry designed by David Moser and a $300 cash prize. The Moser Design Committee Award winner, Paul Templeman-Holmes, also received a Thos. Moser Continuous Armchair signed by David Moser.
Interior Design is one of 20 majors offered at the fashion college. Students learn the theoretical elements of interior design with practical creative approaches to the solution of functional and aesthetic design challenges in living, working, and recreational environments.
Headquartered in Maine, Thos. Moser has been designed and building heirloom quality hand-crafted wood furniture since 1972.
With four dynamic California campuses, FIDM/Fashion Institute of Design & Merchandising is the premier west coast fashion design school, educating for careers in fashion, graphic design, interior design, and entertainment. FIDM's graduates include renowned fashion designers like Monique Lhuillier, Emmy® and Academy Award® award-winning costume designers, top fashion industry executives, and entrepreneurs.
# # #