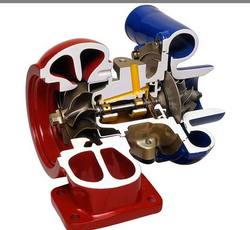 "My discussion will look beyond the turbocharger itself to underscore the importance of the technology in ushering in the new era of efficiency and innovative solutions," said Distinguished Corporate Fellow Nick Baines of Concepts NREC
White River Junction, VT (PRWEB) May 3, 2010
Concepts NREC (CN), a world leader in turbomachinery design, research, engineering, and manufacturing, will exhibit and present a paper at the 9th International Conference on Turbochargers and Turbocharging at the Institute of Mechanical Engineers in London.
CN will exhibit both days of the IMechE Conference at stand seven in the Hinton Room, on the first floor of the Institute's prestigious headquarters at one Birdcage Walk, London. On May 20 at 13:20 hours, Distinguished Corporate Fellow Nick Baines of CN will present "Turbocharger Turbine Pulse Flow Performance & Modeling, 25 Years On."
"My discussion will look beyond the turbocharger itself to underscore the importance of the technology in ushering in the new era of efficiency and innovative solutions," said Baines. In his presentation, Baines will discuss how to make the best use of exhaust energy and optimize the whole charging system for the highly developed technology that will become a key part of future IC engines.
The event has been held every four years since 1978. This year, it will cover all current aspects of design and development of turbochargers, turbocharging systems, other pressure charging devices and their associated systems. Conference topics also will cover turbochargers and turbocharging systems applications to internal combustion (IC) engines in the passenger car, truck and bus, off-Highway, real traction, industrial and marine market sectors.
The IC engine is a key product in addressing major market drivers for the transport and industry sectors, including emissions legislation and the need to reduce carbon dioxide (CO2) and fuel consumption.
To meet legislation, the IC engine needs to evolve with advances in turbocharging systems (air delivery) and fuel injection (combustion equipment) and enabling cleaner power with more efficiency. Ever more stringent market drivers (such as Euro V & VI and EPA) will push evolution further, presenting a series of challenges: flow range, pressure ratio, efficiency, response, reliability, durability and compactness, to name a few.
This event is part of an expanding program of activities that CN will roll out in the coming year to support the growing success in Europe and beyond for its turbomachinery software, services and support. For more information about forthcoming physical events, webinars and other initiatives, please visit http://www.ConceptsNREC.com.
About Concepts NREC
Concepts NREC is a leading worldwide organization providing turbomachinery design, engineering services, manufacturing and CAE/CAM software, with a staff of over 100 professionals at its facilities in Wilder, VT, and Woburn, MA. For more than half a century, Concepts NREC has provided manufacturers, users, government agencies, and the engineering community with technology tools, services, and products that have met their needs, helped achieve their goals, and aided in development and production of some of the world's most advanced products. Concepts NREC is headquartered at 217 Billings Farm Road, White River Junction, VT, 05001-9486. Telephone: 802-296-2321. Facsimile: 802-296-2325. For more information, go to: http://www.ConceptsNREC.com.
# # #