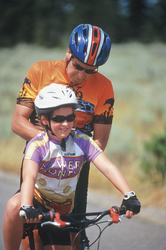 We will strive to be the center for a healthy community, brought together because of the love of all things bike-related," explains Mark Soueidi, Managing Partner.
Billings, MT (PRWEB) May 4, 2010
Strategically situated along two of the newest bike paths in the Billings area, Montana Cycling (http://www.montanacycling.com/) aims to be much more than a retail bike and repair shop. The 12,000 ft. environmentally-designed, built-green facility hopes to also be a moving force for cycling in the community. The Grand Opening has been set for May 22, 2010 with a VIP "Pre-Opening" for media and special guests scheduled for May 12th.
"Ultimately, this bicycle shop will be much more than a retail space. We will strive to be the center for a healthy community, brought together because of the love of all things bike-related," explains Mark Soueidi, Managing Partner.
A 1,000 sq ft designated "Community Center" will be incorporated into the floor plan, available to local non-profits and cycling clubs including Montana Cycling's own mc2 bike club which will support and promote bicycle commuting, organized rides, and formal competitions.
Montana Cycling's retail shop will feature popular brands such as Cannondale, Giant, Cervelo, Orbea, Pinarello, Electra, and Haro as well as Yakima, Burley trailers, and B.O.B. strollers. A full line of cycling apparel will also be sold. In addition, the facility will house a high-tech service center, rental shop, fitness studio and café all under one roof.
Soueidi points out that the May 2010 issue of Bicycling Magazine lists Billings as #37 in the Top 50 Bike-Friendly Cities in America. The magazine cited that, among a new trail system, "all new construction projects include bike facilities, and all public buses have been equipped with bike racks."
"It's a great honor for our community to be recognized," says Soueidi. "We're on our way to becoming an even more bicycle-happy town! Billings is such a great place to ride and we hope to be a catalyst in getting more and more people pedaling."
Montana Cycling just recently teamed up with another Billings company, Austin-Lehman Adventures (http://www.austinlehman.com/) and local Montana Chapter of Bicycles for Humanity (http://www.b4hmontana.org) to collect and ship over 400 used bikes to a rural community in Namibia. The grassroots effort will empower the disadvantaged members of the village through improved mobility and access to food and water, employment, healthcare, education and social opportunities.
Montana Cycling and Austin-Lehman Adventures also just announced that they will provide and support a fleet of eight top-end Cannondale bicycles to the new Volunteer Billings Bike Path Patrol organized by the local police department. ALA provided the bikes and Montana Cycling will handle the tune-up, repair and general maintenance.
Ongoing, Montana Cycling will offer the community free bike safety inspections, host weekly rides open to the public, and conduct unique bicycling-related events such as "Ladies Night Out," where women can learn basic bike mechanics and other aspects of cycling in a healthy community environment.
Avid cyclist and accomplished musician, Mark Soueidi has worked in bike shops since his college days in Chicago and Missoula. "Growing up in Billings, I still have memories of wandering over to the Schwinn Bicycle Shop on 17th Street when I was just 4 years old. I would knock on the back door, they'd invite me in, sit me on a stool, and let me watch 'em wrench on bikes. Somehow I knew that I'd one day have a shop of my own."
The public is welcome to help celebrate the Grand Opening of Montana Cycling at the shop location at the corner of Shiloh Rd. and King Avenue in Billings on Saturday, May 22nd from 1:00 PM to 6:00 PM. Refreshments, events and activities are planned for kids, adults and families as well as a raffle to win new "His and Hers" cruiser bikes.
About Montana Cycling
Montana's newest state-of-the-art cycling center offers top-end sales, service, rentals and repairs to the metro and surrounding Billings, Montana community. Built "green" to LEED standards with the community cyclist in mind, the center also features a fitness studio, community center and health food café all under one roof. A primary focus is placed on educating Billings youth on the joy and benefits of cycling, encouraging them to ride and be active.
For more information go to: http://www.montanacycling.com/ or call 877-MTCYCLN. Fans may also follow them on Facebook (http://www.facebook.com/montanacycling) and Twitter (http://twitter.com/MontanaCycling).
# # #