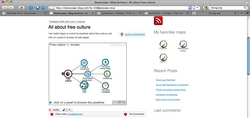 San Francisco, Calif. (PRWEB) May 3, 2010
Pearltrees, the leading-edge social Web curation tool and discovery platform, today announced a new feature called "Super Embed", at the annual west coast Web 2.0 Expo. As one of only five companies selected to present at Web 2.0 Expo's Launch Pad event, Pearltrees will unveil its new release (Beta 0.7) this week at the Moscone Center in San Francisco.
With this latest release, bloggers, journalists and Internet users can organize a series of Web pages about a particular topic, create one 'tree' that houses all that content and then embed that Pearltree in their blog or website so people can view everything they have discovered about that topic in one single window – all without leaving the blog.
Additional major improvements featured in this release include a Pearltree add-on for Chrome, real-time notifications about comments a Pearltree has received, as well as when other Pearltrees' users "pick" or subscribe to a particularly Pearltree, a simplified user interface and a new social search engine that gives users a visual representation of the relevance of search results based upon proximity. This helps users see at a glance which results are closest to their search.
Pearltrees' latest version transforms the process of discovering, organizing and sharing the things people find on the Web while enabling bloggers, journalists and other content creators to add a new level of depth and context to the articles they post online.
Easy to integrate into all sites and blogs, Pearltrees' new beta brings transforms Web navigation and discovery.
Why the 'Super Embed' Will Matter to Bloggers & Journalists:
For writers, users can discover a series of Web pages and explore them in-depth without ever leaving their site. Users are exposed to a complete experience about a topic in one easy-to-navigate window.
With readers spending more time on your site, you have more time to engage with them and build a deeper relationship.
Easy-to-use, simply copy an HTML code from Pearltrees, not unlike users would grab HTML code from YouTube, and paste it into their site or blog. One click activates the window and simple arrows permit navigation from one page to the other. Suggested downloads are clearly signposted so users can start using it within minutes.
Why Pearltrees' Super Embed Will Matter to the Rest of us:
There is simply too much content in too many places on the Web and while various engines help filter what users are looking for, user-generated content, aggregators and contributors such as Yelp, Digg and more, can only get you so far. While useful, they do not curate the Web for the user, nor do they allow them to participate in the curation process.
Smart curation online is necessary in the next generation of the Web – users will demand smarter ways to find content and services that help them save time and find their passions and interests faster and easier. Pearltrees addresses Web curation by enabling anyone to individually organize their Web and extend it to other people's organization of the Web. By doing so, users can discover new content from people with common interests.
Social System & Search
When users pearl the same pages or use a Pearltree (part of another user account), they construct their account of course and automatically constitute their "interest graph". From this interest graph users can explore the pearltrees the most connected to one of yours. It also enables the user to search other topics with relevant results according to their interests.
Why Pearltrees is Unique:
With the onslaught of information we're being hit with daily online, it's impossible to keep up with content and even harder to discover or curate that content into something that is meaningful and relevant for us.
Combining the best in curation, organization and discovery, users can use Pearltrees to quickly save and access online content they find every day, discover new content from others who are interested in similar topics and ideas, and drive people to their world of interests.
It's simple:
1. Pearl the stuff you like on the Web by simply saving the URL in one simple click.
2. Organize one or more pearls into your own Pearltree.
3. Discover other users' Pearltrees through a search box or something we call the minipearl.
4. Pick Pearltrees about a topic of interest to you and follow their updates.
5. Share Pearltrees by embedding them on your blog or on social networks.
About Pearltrees:
Launched in March 2009, Pearltrees is a leading-edge online content curator and discovery platform. Combining the best in curation, organization and discovery, Pearltrees' user-friendly platform allows you to organize and customize your online interests. As the first collaborative Interest network, users not only create, organize and access content on the Web of interest, but they quickly discover other users with similar tastes and passions. Pearltrees allows you to have the things you love at the touch of a button, whether it be politics, social media, personal hobbies or business. The Company was recognized by OSEO in Europe as a "leap forward" and was selected as one of only five companies for Web 2.0 Launch Pad at Web 2.0 Expo in 2010. For more information, visit: http://www.pearltrees.com and follow along on Twitter @pearltrees.
Media Contact:
Renee Blodgett
Magic Sauce Media
617.620.9664
renee(at)magicsaucemedia(dot)com
@magicsaucemedia
###