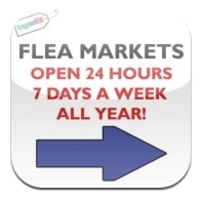 You can find nearly anything at a flea market!
Mount Vernon, NY (PRWEB) May 4, 2010
Whether you're an avid bargain shopper, enjoy traveling or just looking for a local family-fun outing for the weekend, the Flea Market App developed by Tag Sell It Inc is here. Locating antiques, collectibles, memorabilia and treasures is now just a click away. Upon opening the App, users will instantly be presented with Flea Markets in their area where collectors, merchants, wholesalers, vendors and liquidators are waiting to sell some great items.
Tagsellit's Flea Market Directory powers the unique iPhone App, where users can learn more about over 1,500 different flea markets and swap meets across America, including their locations, what they feature, and event schedules. The Flea Market App offers to find your current location upon launch and then pinpoints the nearest markets according to location automatically. The user-friendly option to search by city, state or zip when traveling will help you decide with flea markets you won't want to miss.
The Flea Market App is available for $0.99 at Apple's iTunes Store online. To learn more about the mobile apps and useful tools for garage sales, check out the Helpful Garage Sale Tools section on the Tagsellit homepage.
About Tag Sell It:
Tagsellit.com is a free site where traditional yard sales can be created in a virtual format, enabling people who don't have a front yard or garage to organize a virtual sale, sell their items and list their sale events. The Tagsellit Directories are a focal point and great resource to learn more about Flea Markets, Estate Sales and Consignment Stores across America.
###