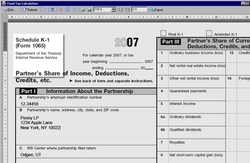 "Accurately tracking and reporting on fund proceeds by investors' nationalities and tax domiciles is almost impossible without a robust back-office accounting system - spreadsheets simply won't cut it.
Mount Kisco, NY (PRWEB) May 5, 2010
A little-noticed provision in the "Hiring Incentives to Restore Employment Act" (HIRE) jobs bill recently enacted by the U.S. Congress closes a major loophole that some financial institutions and foreign banks have used to help investors shield an estimated $1 trillion in assets from U.S. taxes. Designed to help the U.S. Treasure recoup an estimated $70 billion in unpaid taxes, the legislation creates a complex new reporting obligation for investment partnerships. TKS Solutions has upgraded its Penny back-office accounting software to help funds comply with the new regulatory reporting requirement.
Funds must now maintain their investors' ownership percentages by nationality and have a mechanism to routinely report those amounts to their custodians and various taxing authorities. Groups that rely only on spreadsheets for maintaining investor registers are particularly hard-pressed to comply with the new requirement, as it is nearly impossible to automate such a filing.
TKS Solutions has released a new version of its flagship Penny-It Works partnership and shareholder back-office accounting software which includes a withholding report specifically tailored to satisfy the new statue by automating the tracking and filing of the required 90-22 tax form. The report classifies each investor by nationality and provides additional information about their tax domicile.
Because Penny maintains both partnership and shareholder registries and includes extensive tax capabilities, it is uniquely positioned help investment partnerships avoid the 30% penalty established for inadequate filings by hedge funds.
Says Ron Kashden, president of TKS Solutions, "accurately tracking and reporting on fund proceeds by investors' nationalities and tax domiciles is almost impossible without a robust back-office accounting system". According to Mr. Kashden, a CPA and former hedge fund CFO, "spreadsheets simply won't cut it when it comes to tracking the ins and outs of each investment and resulting tax obligation for each investor by domicile".
That is one of the reasons that dedicated back-office accounting solutions, such as the Penny system, are being adopted more and more by fund groups seeking to provide greater staff efficiency while ensuring compliance with an increasingly complex regulatory environment.
About TKS Solutions
TKS Solutions offers unified partnership and shareholder accounting solutions for the financial industry. Its flagship software Penny®- It Works, helps firm better manage their investment partnerships and funds by providing automated and instant access to detailed investor data. Penny's open architecture and proven features easily integrate with portfolio accounting and customer relationship management systems, data warehouses and in-house proprietary solutions, creating a comprehensive and unified view of all investor data, as well as greater transparency for investors. TKS Solutions works with partners worldwide to serve its customer base of leading hedge funds, fund of funds, private equity firms, administrators and management companies, ranging from $50 million up to $60 billion under management. For more information, please visit http://www.PennyItWorks.com.
###