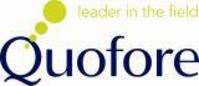 The results point out that companies that have deployed technology in-store are more likely to know the ROI of their in-store execution efforts
Atlanta, GA (Vocus) May 4, 2010
With the objective to better understand the challenges CPG companies face in-store and how technology is being used in the in-store environment, Quofore conducted a survey during March with consulting partner Booz&Co. The survey drew participation from 113 consumer products executives and revealed 94 percent agreement that consumer goods companies are planning significant technology investments for retail execution solutions in the next five years. Other key findings are also detailed in the newly released report, "Global In-Store Practices."
"The results point out that companies that have deployed technology in-store are more likely to know the ROI of their in-store execution efforts," said Harris Fogel, Americas president of Quofore. "Additionally, trade promotion compliance continues as one of the key focuses for the future and respondents identified that lack of visibility to trade promotion compliance today is a key concern. It is critical that for these companies to be successful, they clearly define their desired processes to enable and support key performance indicators, which will ultimately drive the desired ROI."
Survey respondents represented a cross section of industry sectors and countries across North America, Europe and Asia. Companies participating in the survey included Campbell Soup Company, Kellogg Company, Sara Lee, Diageo North America Inc., L'Oreal, Hillman Group, Makita, and dozens of others.
More than 50 percent of respondents said their top in-store priority is to increase sales. However, as described in the report, many trends are impacting performance such as the increased presence of private label, reduction in retail staff on the shop floor and non-compliance of promotions. Technology appears to be the main component of any solution, according to the survey results.
Booz&Co.'s Principal Jon Van Duyne added: "The research reinforces our belief that despite difficult economic conditions, companies continue to invest in technology and processes to improve their ROI on trade events. According to the research, 40 percent of the companies surveyed do not know whether they achieve their target ROI, and another 20 percent said they have failed to hit their ROI targets. Our survey shows conclusively that 80 percent to 90 percent of the firms plan to continue to invest in technology and process improvement over the next five years in order to improve their ROI, in addition to improving the efficiency and effectiveness of their execution at retail. Our research also revealed that companies tend to fall in one of three clusters. Further analysis of these clusters show that many companies are following a defined path toward optimizing their in-store operations."
The Industry Benchmark Survey and corresponding report were also the subject of a webinar presented by Fogel and Van Duyne in April, which attracted more than 300 registrants.
Access the full report at: http://tinyurl.com/y337u6t.
About Quofore
Founded in 1998, Quofore (formerly O4 Corporation) is recognized as the international leader in mobile software solutions for field representatives in consumer products companies. Companies using Quofore solutions are able to drive competitive advantage through their management and execution of field sales, merchandising, promotion, and direct delivery activities. Incorporating world's best practice, Quofore solutions reflect the experience and domain expertise gained from over a decade of specialized industry focus, working with customers in more than 20 countries in both modern trade and emerging markets. Quofore markets its software worldwide through its regional offices in the Americas, EMEA and the Asia Pacific region, and works closely with its partner ecosystem to service and support its customers worldwide. Quofore has delivered solutions to customers across six continents including leading global corporations such as Procter & Gamble, Cadbury, Brown-Forman, Dyson and Black & Decker, as well as numerous small to midsize companies. For more information, visit http://www.quofore.com.
###