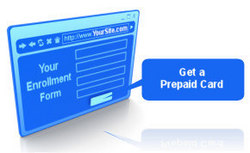 Many businesses are faced with customers or members who can't pay them easily or can't receive payments from them when needed. The Plastyc API, together with the UPside Visa prepaid card, help businesses solve that problem in a way that is both seamless
New York, NY (PRWEB) May 5, 2010
The API helps solve a problem that many businesses face: offering alternative payment options to customers who don't have, or don't want to use, credit cards or checking accounts. By signing up customers on the spot for the UPside Visa, businesses provide a secure, low-fee, universally-accepted payment option and help increase their own sales.
While there are many alternative payment systems, most have high fees and few work online or offline as reliably as the UPside Visa prepaid card.
The API helps solve another problem: making repeated payments to customers or contributors. Examples include making payments to loyalty program customers, contract employees, to affiliate partners or sales people.
"Many businesses are faced with customers or members who can't pay them easily or can't receive payments from them when needed. The Plastyc API, together with the UPside Visa prepaid card, help businesses solve that problem in a way that is both seamless to their site's users and respectful of their wallets," said Patrice Peyret, CEO of Plastyc.
Plastyc delivered the API in response to demand from businesses across industries including tax preparation services, financial education, game sites, direct sales organizations and even a taxicab payment service.
In a multi-state trial, cab drivers in D.C., Illinois and Louisiana are receiving their portion of riders' credit card payments directly in their UPside Visa accounts. The drivers signed up for the card via Dialie.http://www.dialie.com/ taxicab payment system that uses the Plastyc API. Credit card payments go directly to the cab company which pushes the drivers' portion directly to their cards. The drivers can check their balances by swiping their UPside Visa card in the cab's card reader or by calling Dialie's phone bank.
With the deployment of credit card terminals in taxis nationwide, cab drivers who were used to receiving cash from their customers can now receive their money directly onto an UPside Visa card. This alleviates their fears of losing convenience or speed when taking riders who pay by credit card rather than cash.
About Plastyc, Inc.
Plastyc's iBankUP online banking service and UPside Visa prepaid card services are the new game in town for people who love innovation and hate wasting money on checking account, credit card and check cashing fees. Thousands of new customers each week save million of dollars in fees by using Plastyc's FDIC-backed banking services. Plastyc's principals are veterans of the consumer and payment industries, with decades of experience at companies such as GemAlto, Oberthur, Unilever, Thomson/RCA, Sun Microsystems and Mobile365. Plastyc Inc. privately held with headquarters in New York City.
###