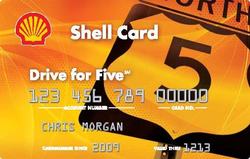 New York, NY (PRWEB) May 3, 2010
Automobiles are the primary means of transportation used by leisure travelers.* But spending more time on the road, doesn't mean driving has to cost more money. Starting today, Citi is offering consumers ongoing fuel savings and an easy way to manage fuel and related automotive purchases with the new Shell Drive for Five Card. The Shell Drive for Five credit card offers cardholders the ongoing opportunity to save 5 cents per gallon on Shell-branded fuel, including Shell diesel, when they purchase at least 45 gallons each month, up to 100 gallons. The savings will appear as a credit on cardholders' monthly billing statements.
The Shell Drive for Five Card also delivers additional benefits that include pay-at-the-pump convenience, separate tracking of gasoline purchases, online account management and payment features, ATM cash access, flexible revolving terms or pay in full with a 25-day grace period, $0 liability for unauthorized charges and Citi Identity Theft Solutions protection feature. In addition to fuel purchases, the Shell Drive for Five Card can be used to pay for convenience store purchases, car washes, or other products and automotive services offered at over 14,000 Shell stations nationwide.
To further help drivers save money at the pump, Citi and Shell offer the following tips to maximize fuel economy:

Tune up: Before hitting the road, get your car checked. Ensuring that your vehicle is running efficiently can improve gas mileage by an average of 4%.*
Lighten up: Remove any unnecessary baggage or cargo from your vehicle. For every extra 100 pounds a car carries, its fuel economy is reduced by about 1 to 2%. A loaded roof rack can decrease a vehicle's fuel economy by 5%.*
Clean up: Get an undercarriage wash to remove road debris to not only prevent rust, but also make your car more aerodynamic, improving its fuel efficiency.
Apply pressure: Improve gas mileage up to 5% by keeping tires inflated to the recommended pressure.* Properly inflated tires also last longer, saving you money on replacement tires.
Keep your engine cool: As the weather warms up, your coolant does too so that your engine doesn't overheat. Every other year, get your coolant flushed and refilled so your engine continues to run at an optimal temperature and efficiency.
To apply for a Shell Drive for Five Card, go to http://www.shell.us/cards, call 1-888-98-SHELL (7-4355) or visit any Shell station and pick up an application.
*travelhorizonsTM, July 2009
**2010 Fuel Economy Guide, U.S. Environmental Protection Agency and U.S. Department of Energy
###