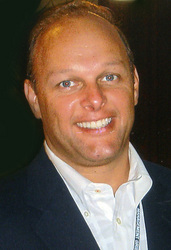 "Even after 10 years of success, International Bancard still enjoys a refreshing culture that's based on family, knowledge, community and balance. And, we're relentless about doing the right things for our customers and our employees."
Michigan (PRWEB) May 4, 2010
David Hofer has joined Michigan-based International Bancard Corporation as President to help drive sales, marketing and product/service innovations. He will also head the recruitment of team members and development of the International Bancard Board of Directors.
International Bancard is a leading national financial transaction services company specializing in Visa, MasterCard, Discover, JCB and American Express payment processing, cash advances (providing capital to businesses) and stored-value customer loyalty cards. The Michigan Economic Development Corporation named International Bancard a key business helping the state drive diversified business and job creation.
Hofer said International Bancard has the financial acumen, people, processes and entrepreneurial skills to help businesses solve their financial challenges.
"I've always associated myself with organizations marked by both integrity and excellence," he said. "Even after 10 years of success, International Bancard still enjoys a refreshing culture that's based on family, knowledge, community and balance. And, we're relentless about doing the right things for our customers and our employees."
Hofer has 18 years experience directing and growing early-stage companies and establishing multi-billion dollar brands through leadership, ROI-focused sales and marketing initiatives, as well as product innovation and commercialization. He previously served as Managing Partner with Wiley D. Thompson III (former assistant director of the FBI) in security firm, Insignia Surveillance. He was President of Troy-based Moncur Associates forming the Miami office and founder and CEO of a Global management consulting and marketing services company located in Detroit, Frankfurt and Tokyo) servicing clients like Audi/VW, EDS, GMAC, JetOne, Microsoft, Panasonic and Raytheon.
Now in its 10th year, International Bancard is a solution-driven financial transaction firm with a full suite of services such as credit, debit and check processing (including mobile); cash advances; stored value gift loyalty cards for businesses; check guarantee; and integrated point-of-sale software systems.
###