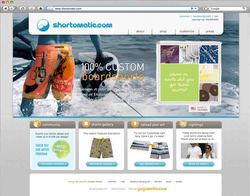 Santa Monica, CA (Vocus) May 4, 2010
These are not typical board shorts!
Using proprietary technology, Shortmatic.com enables customers to either create their own design or access the company's vast library of artist imagery to custom-design their own distinctive pair of shorts. The shorts are then made in Los Angeles by a tailor using top-notch materials. Customers can use almost any image – including high-definition photographs, graffiti art, op art, kids' drawing, paintings, and any other design imaginable. The high-quality printing allows for the kind of saturated hues and detailed imagery that is usually seen on gallery walls. And the quick turn-around time (approximately 21 days) allows for designs to be based on current trends, the latest news and ever-changing pop culture.
Visitors to Shortomatic.com start designing their shorts by selecting an image to work with. This can be done in one of two in ways: visiting the Shorts Gallery to choose one of Shortomatic.com's curated images or using the Customizer (an easy step by step process) to upload their own artwork.
The Shortomatic.com Shorts Gallery features work from a wide array of artists. Populated with hundreds of designs ranging from photography and paintings to graphic and computer art, users can discover new artists and find a design that reflects their style. Shortomatic.com limits production of artists' designs available in the Shorts Gallery to 200 and pays royalties to each artist every time their art is used.
Or users can use the Shortomatic.com Customizer to create a truly unique, personalized design. Shortomatic.com's proprietary technology allows the upload, positioning, cropping, layout, sizing and rotation of the imagery so that artwork can be manipulated into any kind of design. The design options are endless and it's all up to the users' imagination to determine how creative their shorts will be -- whimsical fun, colorful, striped, whacky or serious. Personalized shorts make the perfect gift giving idea for bachelor parties, birthdays, Father's Day and any other celebration. Remember Father's Day is just around the corner –- why not make Dad his own personalized pair of shorts?
After the image is selected, the user can customize complimentary trim accents, including the waistband, fly, waist tie flaps and welt pocket. To truly personalize the shorts, you can create a message of up to 140 characters – a name, a saying, a wish – to be printed on the inside waist band.
All Shortomatic.com shorts are made of the super-suede micro-fiber preferred by surfers for its durability, ability to dry quickly, and soft feel on the skin. The fabric holds color and won't fade like cotton sometimes does. The distinctive cut of the shorts combines a seamless outside leg – optimum for reproducing graphic artwork – and tailored darts for a flattering rear fit. Shorts are available in sizes 22 – 38 and retail for $99.00 a pair. Women's shorts developed with the ultimate surfer girl in mind are slated to launch late Spring.
Shortomatic.com is an environmentally-conscious business and currently has programs in place with Plastiki to help spread the message "Beat Waste" and Global Green USA, an organization addressing some of the greatest challenges facing humanity, including stemming global climate change by creating green buildings and cities.
###