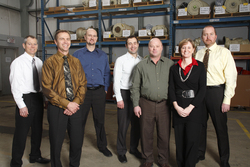 "The best thing about Gasfield is that its such a great fit," said Mike Crawford, Business Development Manager at SAGE. "In terms of geography, product focus and people, we couldn't be better matched."
Calgary (PRWEB) May 5, 2010
To further expand their line of gas compressors and products, Alberta-based SAGE ENERGY CORP. has acquired Gasfield Energy Service Calgary. This move allows SAGE to amass more service trucks, open extra branches and supplement its team of specialists with additional experts. As a result, the company will be able to provide a thoroughly complete service with expertise in natural gas engines, reciprocating and screw compressors, refrigeration, instrumentation, and generator set service, compressor package maintenance, and overhaul capabilities. SAGE thus expects the acquisition will enable it to better address the needs of its clients, particularly the local Canadian producers SAGE is committed to serving. It will also increase SAGE's competitive edge for obtaining new business.
"The best thing about Gasfield is that its such a great fit," said Mike Crawford, Business Development Manager at SAGE. "In terms of geography, product focus and people, we couldn't be better matched."
Gasfield Energy Service is one of western Canada's largest horsepower service providers. The majority of the company's clients are based in southern Alberta and southern Saskatchewan. These are serviced from three branches located in Calgary, Taber and Medicine Hat. The acquisition gives SAGE 10 new mechanical field service trucks and 5 new instrumentation trucks, bringing SAGE's total service trucks to 28. Plus Gasfield personnel are already seasoned experts at troubleshooting, maintaining and overhauling oilfield pumps, instrumentation equipment and all makes and models of engines and compressors currently operating in the industry.
"Gasfield is a true asset to our company and our clients," said Barry Rinehart, President.
Gasfield will function as a subsidiary of SAGE ENERGY CORP.
ABOUT SAGE ENERGY CORP.
Since the company's inception as Concept Compression in 2002, it has grown to become a leading innovator in gas compression. Sage Energy offers clients a complete range of products, including rotary screw and reciprocating gas compressor packages, natural gas generators, and refrigeration compression. The service department is recognized as an industry leader providing total service solutions for everything from compressor packages and gas plants to engines and refrigeration plants. The company's vast experience, proven expertise and solid determination is dedicated to developing the gas compression products and services that work for their clients. From project inception to ongoing field services, Sage Energy brings smart solutions to all gas compression needs. To learn more about Sage, visit sageenergy.ca.
SAGE: Good People, Smart Solutions
For media inquiries, please contact:
Calgary Head Office: 403.250.8810
###