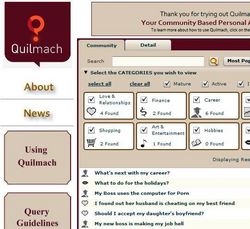 With Quilmach we seek a high quality of content. For this reason, submitted queries are moderated in order to ensure their authenticity and clarity.
Atlanta, GA (PRWEB) May 11, 2010
Quilmach.com uniquely empowers people to ask others for advice and to vote on recommended life choices. Anyone seeking personal advice can easily create a query by entering a tagline that summarizes his or her key question, a detailed scenario description, and up to five options for the community to vote upon. Queries can be categorized under such topics as Love & Relationships, Career Choices, Lifestyle & Fashion, Finances, Health, Travel, Hobbies & Sports, and Arts & Entertainment::
What's the best college for me?
How can I sell my house and move to a less expensive area?
Should I leave my cheating boyfriend?
Not all queries need be life-changing. Oftentimes we simply want advice on lighter choices related to personal hobbies or lifestyle.
Where do I go for vacation, Cancun or Puerto Vallarta?
What name should I give my puppy?
Leveraging the 'Wisdom-of-the-Crowds' effect, advice-seekers will be able to benefit by seeing how the community voted as well as by receiving their written feedback. People posting questions will also be able to analyze the votes by voter demographics (gender, age, religion, etc.)
"With Quilmach we seek a high quality of content. For this reason, submitted queries are moderated in order to ensure their authenticity and clarity," said Israel del Rio, CEO, Quilmach LLC.
Quilmach's patent pending technology ensures that even the moderators will not know the identity of the person posting the question. Membership in Quilmach is free. Registered members automatically receive sufficient Q/Points to submit at least two queries. Also, members will earn Q/Points each time they vote. They can then apply earned Q/Points to submit additional questions.
"We expect the Beta period to help seed the site with interesting questions, to make the audience familiar with the concept, and to help us identify and react to community feedback.," said Chief Technology Officer, Tom Toppel.
During the beta period we expect to validate Quilmach as the pioneering advice device that will turn a 'Word of Advice' into a 'World of Advice'.
For more information, or to "Quilmach" your own personal advice request, or to vote and give feedback to queries, visit the Quilmach Beta version at http://www.quilmach.com!
About Quilmach
Quilmach is the first ever Community Based Personal Advice Device on the Web, allowing people to literally get "A World of Advice". Quilmach was co-founded by Israel del Rio and Tom Toppel. Both have years of experience developing technology solutions for high transaction reservation systems and web portals. Israel is a former Fortune-500 Senior Vice President and CTO executive and expert on IT Transformation initiatives. Tom is a Senior Technologist with a successful track record of innovation in various high-tech software development initiatives. For media inquiries, please contact them via email at business(at)quilmach(dot)com.
###