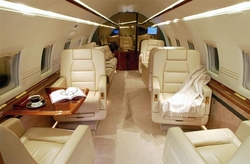 basing a large cabin aircraft in South Florida will help Talon Air meet the increased demand for both domestic and international flights originating from this area
Farmingdale, NY (PRWEB) May 4, 2010
Talon Air, Inc., a worldwide leader in private aircraft management and luxury private air charter, announced today that it has recently added a Bombardier Challenger 604 to its fleet of modern business jets. The addition of this large cabin aircraft is part of the company's continued expansion to serve its customers. The aircraft is based in Miami, Florida.
"Strategically basing a large cabin aircraft in South Florida will help Talon Air meet the increased demand for both domestic and international flights originating from this area." said Jason Sanders, Senior Vice President. "By opening this base we will be better positioned to serve our customers and the Florida community."
The Challenger 604 offers the widest private jet cabin in its class with spacious seating for up to ten passengers. With speeds up to 540 mph at 41,000 feet, this private aircraft is one of the most comfortable and efficient large cabin business jets available for air charter. The Challenger 604 features an oversized baggage compartment designed to transport skis, golf clubs, or a variety of other passenger luggage, making it a great fit for both personal and business travel.
Talon Air continues to strategically grow its private jet fleet through aircraft management agreements. Unlike fractional aircraft agreements, Talon's customized Aircraft management agreements are an attractive option for aircraft owners and corporations who want to lower the cost of aircraft ownership, and generate air charter revenue when the aircraft is not being used.
To learn more about our aircraft management programs or to request a private charter quote on this aircraft, visit http://www.TalonAirJets.com
About Talon, Air Inc.
Founded in 2001, Talon Air is a boutique aircraft management company providing luxury private jet charter and maintenance services. Headquartered at Republic Airport (FRG) in Farmingdale, New York, Talon Air, Inc. is located in a brand new state of the art 100,000-sq-ft hangar and office complex. With the addition of a new Florida private jet base, new private aircraft and turbo prop aircraft to its fleet, Talon continues to be an innovator in the air charter industry delivering an unparalleled level of consistency and customer service. The vertically integrated private jet fleet includes the Sikorsky 76B Helicopter, King Air B200, Hawker 400XP, Hawker 800XP, Hawker 900XP, Hawker 4000, Challenger 300, Legacy 600, Challenger 604 and Gulfstream IVSP private aircraft. All of Talon Air's ATP, FlightSafety and CAE SimuFlite trained pilots and factory trained A&P mechanics are Talon employees and maintain the highest safety ratings available. Talon Air, Inc holds the highest safety ratings of Wyvern Wingman, ARG/US Platinum and an IS-BAO Certification.
###