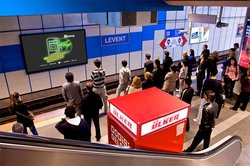 "We chose Scala to design and power the Outdoortv Metro network because of its flexibility and ease of use," said Zeynep Solak, IT Executive, Ströer Kentvizyon.
Istanbul, Turkey (PRWEB) May 4, 2010
Ströer Kentvizyon, Turkey's largest developer of out-of-home advertising, has installed its Outdoortv digital ad network in 16 metro stations in Istanbul and Ankara, Turkey, with the help of Scala. To date, Outdoortv has a total of 41 135-inch Panasonic projector-driven screens in the Metro network, with plans to add 15 more by July.
The Outdoortv Metro screens were developed to make waiting in the metro more enjoyable for commuters. The screens, which are located in the center of each metro station, also provide advertisers a way to reach consumers with appealing digital content and brand messaging. Outdoortv Metro uses projectors to show ads on high-definition screens on the wall of the metro platforms. The screens play content until a train approaches the platform, and projectors cease content when the train stops. When the train continues to move, content begins to play again.
Outdoortv has become popular with advertisers due to its ability to broadcast location-specific ads over the network. Using Scala Content Manager, Player and Designer, the Outdoortv production team has been able to create the first brand-specific, digital out-of-home advertorial projects that are adapted for location and content in Turkey.
"We chose Scala to design and power the Outdoortv Metro network because of its flexibility and ease of use," said Zeynep Solak, IT Executive, Ströer Kentvizyon. "Scala helps spread Ströer's experience and knowledge in digital media technology across Turkey and invest in the future of outdoor media with powerful network infrastructure and content."
About Ströer Kentvizyon
Ströer Kentvizyon was founded in 1998 as a partnership between Ströer International (Germany) and Akademi Reklam (Turkey) and is now Turkey's largest out-of-home advertising company. Ströer Kentvizyon is continually developing innovative, technological and functional products that meet the needs of the market with its R&D efforts. With an organization that spans all around Turkey and with a wide range of products, Ströer Kentvizyon reaches 64 percent of the population of Turkey and is constantly growing with new projects.
In January 2009, Ströer Kentvizyon launched digital outdoor advertising in Turkey, under the brand name Outdoortv. With the slogan "Media for Mobile People," Outdoortv made a fast start toward becoming the most preferred new advertising medium, introducing a new outlook to out-of-home advertising. For more information, visit http://en.stroer.com.tr/default.aspx.
About Scala
Driving more than 500,000 screens worldwide, Scala is a leading global provider of digital signage and advertising management solutions. Scala is the world's first connected signage company, offering the leading platform for content creation, management and distribution in digital signage networks and the first unified platform for advertising management of both traditional and digital signage networks. The company's digital signage customers include Rabobank, IKEA, Burger King, T-Mobile, Virgin MegaStore, Warner Brothers, The Life Channel, Rikstoto, Repsol, NorgesGruppen, Audi, ECE Flatmedia, Kaufhof (Metro Group) and thousands more. Advertising management customers include CBS Outdoor, Clear Channel Outdoor and Magic Media, among others. Scala is headquartered near Philadelphia, USA, and has subsidiaries in Canada, The Netherlands, France, Norway, Germany and Japan, as well as more than 450 partners in more than 60 countries. More information is available at http://www.scala.com.
©2010 Scala, Inc. 350 Eagleview Blvd. Exton, PA 19341. Scala and the Exclamation Point Logo are registered trademarks of Scala.
###