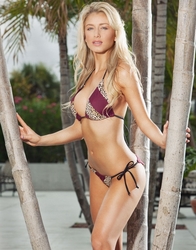 "All About Cabo is breaking ground where no other Mexico travel website is and I am excited to be part of it!" - Crystal Hemphill, All About Cabo Spring model
Cabo San Lucas, MX (PRWEB) May 4, 2010
All About Cabo, a complete online travel guide to Caboand its surrounding areas, has launched a new promotional program with a winning combination of models and Mexico charities.
This contest allows an avenue for professional models supporting Mexico to use their fan base combined with All About Cabo's viewers to benefit a Mexico charity of their choice. The model will be featured with photos, a description of their career and positive thoughts regarding Mexico. Accompanying this is a summary describing the model's choice of charity with an option to donate in support of Mexico and your favorite model.
Some of the charities selected are the Green Scholarship Program in Cabo San Lucas, the Humane Society of Cabo San Lucas, Animal Lovers of Mexico Association and SOS Children Villages. These charities cover a wide range of areas and aspects in Mexico from education to animals.
This month's model will be Crystal Hemphill, a former Mexico foreign exchange student. Crystal has competed and won numerous modeling contests, was nominated Miami's sexiest jobs on the E television network and modeled for Playboy Intimates lingerie. Fluent in Spanish and living in Miami she is excited to be selected as this month's Cabo beach model.
All About Cabo owned by Iguana Interests LLC and based out of Houston, Texas is committed to creating a high quality content, interactive, entertaining web site experience. They are dedicated to promoting Mexico's culture, history, life, style and much more. Any user will leave the site feeling prepared, planned, booked and excited.
If any models are interested in competing and supporting Mexico please contact:
Aleasha Stephens, Director of Public Relations, Iguana Interests
Aleasha.stephens (at) allaboutmexico (dot) com
http://www.twitter.com/allaboutmexico - Follow us!
http://www.facebook.com/pages/All-About-Mexico - Fan us!
###